Looking for unique quilter gifts this holiday season? We're always on the lookout for great Christmas gift ideas for our favorite quilters in our lives. This year, we have several different ideas (12 in total) that we know every quilter young and old will find useful and love.
Let's dive right into the first product on our quilting gift ideas list.
1. Fiskar's Rotary Cutting Set
An Amazon bestseller, the Fiskar's Rotary cutting set includes everything you need to measure and cut your fabrics. This set includes:
18" x 24" cutting mat
6" x 24" clear acrylic roller
Classic stick Rotary with 45″ blade
Now you can cut your fabrics or quilting items with the utmost in precision. Not only is this set affordable, it's a must-have in every quilter's arsenal. One thing you don't want to go cheap on is a rotary cutter and Fiskars cutters are excellent quality.
=> Click here to start cutting your fabric like a professional.
2. Wonder Clips 50-Pack
Do you always find yourself looking for clips to hold your fabric designs together? For under $10, you can purchase a 50 pack of clips that come in a variety of colors. These clips are perfect for:
Sewing
Quilting
Crafts
Knitting
Crocheting
All of your projects can now have the perfect clip to hold your pieces in place. Hold your fabric together, hold the pattern in place or use these clips as a marker when outlining your design. Once you start using them you'll wonder how you managed without them. They are consistently a best seller on Amazon, are inexpensive and make for a perfect stocking stuffer.
=> Click here to buy the Wonder Clips 50 pack today
3. June Tailor Shape Cut Ruler
Cutting precision patterns is a breeze thanks to June Tailor. This unique ruler is clear and has a variety of different cut steps to ensure the utmost in precision during your cuts. This ruler includes:
.5" cutting increments
16" x 16.5" size
The one thing that's really great about this ruler is that you can use it to make squares, triangles, hexagons and several other shapes using the unique design June Tailor offers. You can cut several different layers of fabric at one time, allowing for fast and easy cutting. You can read our review of June Tailor's ruler here.
=> Click here to learn more about the June Tailor shape cut ruler.
4. Art Supply Self-Healing PVC Cutting Mat
You can never have too many cutting mats available. When you're in a small space, you'll find that you never want to cut on your table, which can leave nicks and scratches. Instead, US Art Supply offers a 24" x 36" professional self-healing cutting mat.
This mat is a five-ply model that has self-healing capability. These mats include:
½" grid
1/8" marks.
45° and 60° guides.
Lines for cutting diagonals
Green and black designs
You'll protect your table and furniture from sharp blades while being able to cut with precision rulers.
=> Click here to purchase your self-healing cutting mat today.
5. OLFA Rotary Circle Cutter
The Compass Circle Cutter allows you to create the perfect circles each and every time. Perfect for a variety of different craft projects and quilting projects, you'll find that there are several blades included as well as right and left handed user comfort.
Available in a four pack, you'll receive the perfect compass cutter that allows you to cut a 6-inch diameter design. I use this tool when doing applique and the circles always turn out great.
You'll also be able to cut circles as small as 1/4 of an inch. You can read our review of the cutter here.
=> Click here to learn more about the Rotary Circle Cutter.
6. Supreme Slider Motion Mat
Inexpensive quilting gifts don't get any better than the Supreme Slider Motion Mat. Affordable and effective, this mat measures 11.5" x 17", and is the ideal choice for free quilting designs. This packet system offers zero friction so that your quilt fabric will glide along effortlessly while you work. These mats reduce fabric fiction and save a lot of wear and tear on your hands and wrists.
Made from Teflon, this mat allows fabric to slide easily on your quiltig machine's surface, while the mat itself has a bottom grip to ensure that it doesn't move out of place while you quilt.
For under $10, this is the perfect stocking stuffer this Christmas.
=> Learn more about the Supreme Slider Motion Mat.
7. Machine Quilting With Style
One of my favorite books on quilting. Christina Watson does an amazing job as the author of this book, which was released on September 8, 2015. You'll work through the book, learning everything from her free motion techniques to creating fantastic quilts from start to finish.
You can also use your own sewing machine if you wish.
This award-winning quilting expert walks you through a variety of designs with eight different walking quilt designs, 12 inventive designs and 10 free motion quilting motifs. You'll learn how the Masters of quilting go from basic machine quilting to free motion quilting. This is a book that allows your creative juices to flow and teaches you how to make patterns that go beyond the basics.
With 112 pages, this is a perfect book for all ages. You can read our review of this fantastic book here.
=> Click here to begin reading Machine Quilting with Style.
8. Among Flowers Quilting Fabric Charm
Sometimes, fabric is all she wants for Christmas. This amazing pack includes 80 different floral patterns and 5 inch floral fabrics. This fabric pack has been dye cut to precision, and is always an appreciated gift for quilters.
For under $12, this is an amazing bargain that is perfect for new quilters that need a little fabric to get started.
=> Click here to view the amazing patterns offered by Among the Flowers Quilting.
9. Quilting Creations Large Stipple Stencil
Large stencils are useful for a variety of different applications. They are great for beginners. They are perfect tools for making designs quilts for a wall, curtains or clothing. These plastic stencils are easy to clean. Just use a bit of soap and water and they are ready to be used again.
Stencils range from 1 inch to 13 inches, so you'll build to make a variety of different patterns in a variety of different sizes.
The stencils are shorter and feature fun border designs, intricate flowers, hearts and a variety of other cute and fun stencil patterns.
=> Click here to buy the best-selling stencil for quilting on Amazon.
10. EZ Quilting Dresden Quilt Tool Set
The ideal gift when someone is just starting quilting. This item is a complete tool with pattern instructions, a ruler, pointer, creaser tool and step-by-step instructions on how to get started. Simple yet essential for every quilter, the Dresden is priced just over five dollars, and is an Amazon bestseller in the quilting templates category.
You'll need this to get started with quilting, and it includes:
Acrylic Toll
Pointer
Creaser
Pattern
Perfect for anyone just starting or experienced quilters, this is a fun present that won't break the bank.
=> Click here to learn more about the Dresden Quilt Toolset.
11. The Electric Quilt 7
Are you looking for gifts for a quilter who's tech savvy? The Electric Quilt 7 is the best choice for complete quilt design software. This product is a complete suite of tools that allow you to make an entire layout of your design, with photos and image workable designs.
User-friendly, there are 25 lessons and 10 videos that teach you how to use this product from start to finish.
Learn how to turn your everyday photos into quilting images, scan fabrics and then print them out for the perfect design for your next custom-made quilt. This product works on Windows and Mac.
If the quilter in your life wants to make something truly spectacular, this software will guide him or her through the process. It is super easy to use and a lot of fun!
Click here to read my full review of this fun software.
=> Click here to begin using the software today.
12. AccuQuilt GO Fabric Cutter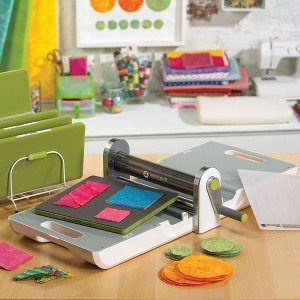 The GO Fabric Cutter by AccuQuilt is the perfect option for the quilter on the go. This fabric Cutter uses a unique system to cut fabrics much faster than a rotary or scissors. It is light and portable so you'll be able to use this cutter at retreats, classes, during travel, at school or anywhere you please.
A cutting mat is also provided with your purchase.
This is the ideal product for anyone that quilts often and needs to cut a lot of fabric. With the ability to cut fabric 90% faster than with a regular scissor, you'll be able to cut through fabric with the utmost ease. Frequent quilters will love the ability to enhance their quilting projects without having to cut for hours on end. I really love this tool. I've saved so much time its amazing.
You can see our extensive review of this awesome cutter here.
=> Click here to learn more about AccuQuilt's fabric cutter.
13. A Brand New Quilting Machine 🙂
Of course the ultimate gift for a quilter would be a brand new quilting machine. To see some of the ones we recommend you can go here.