Brother sewing machines have long been a trusted name in the world of sewing. With a legacy that dates back to 1908 when Kanekichi Yasui founded the Yasui Sewing Machine Company, Brother Industries Ltd. has evolved into a worldwide leader in design, innovation, and production of sewing machines. Whether you're a beginner or an experienced sewing enthusiast, Brother offers a variety of sewing machines that cater to your specific needs, skill levels, and budgets. In this blog post, we'll explore the top Brother models available in 2023, identify their key features, and provide guidance on how to choose the best brother sewing machines for your unique sewing journey.
Key Takeaways
These machines offer user-friendly interfaces, versatile stitch selection & innovative technology to suit all skill levels.
Consider purpose, skill level and budget when selecting a Brother machine.
Accessories such as presser feet, extension tables & bobbins help users achieve professional results with their sewing projects.
Top Brother Sewing Machines for Various Needs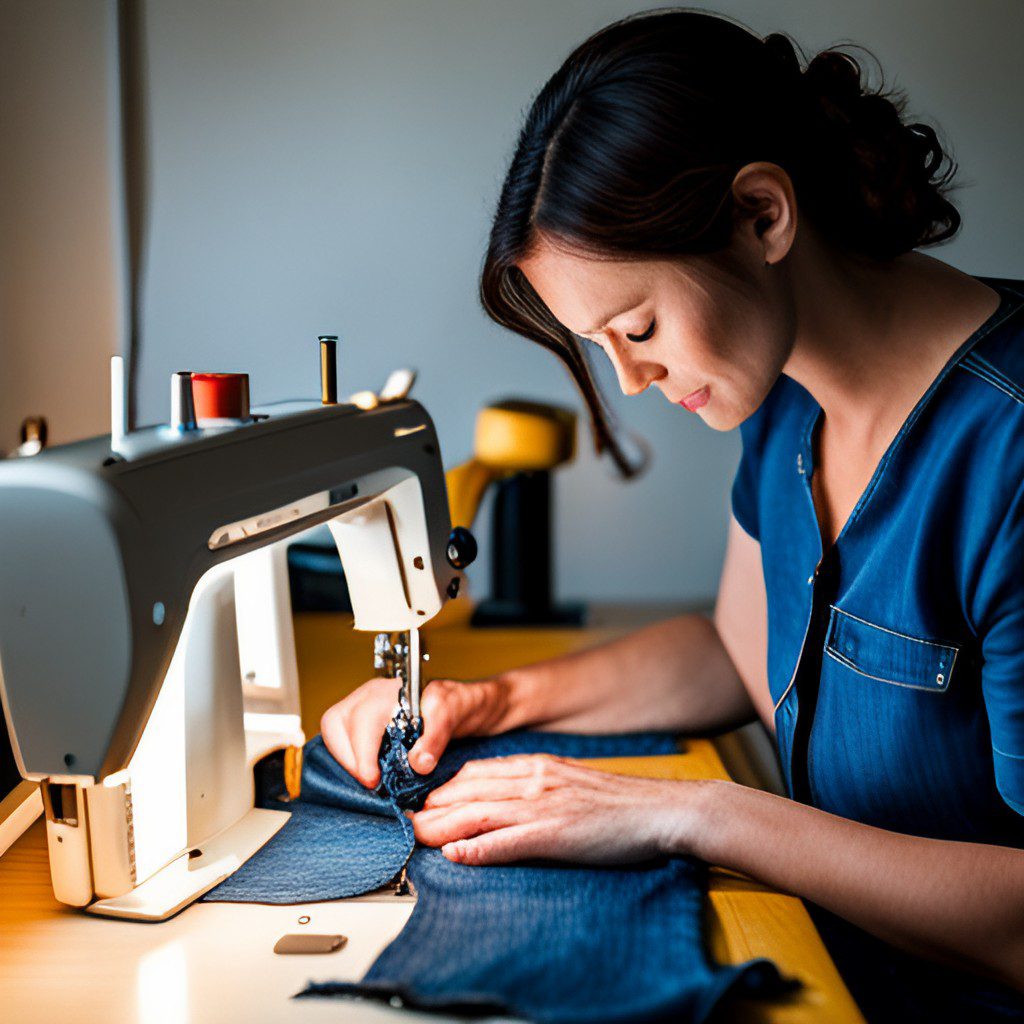 Finding the right sewing machine requires careful consideration of its intended use, your skill level, and your budget. These machines offer a diverse range of models, from basic mechanical machines to advanced computerized sewing machines, catering to various sewing projects and user requirements.
We will now highlight seven top-rated models of 2023, each catering to unique needs and preferences. Whether you're looking for your first
machine or want to upgrade your current one, these Brother sewing machine reviews will help you make an informed decision.
Brother CX7000i Sewing and Quilting Machine
The Brother CX7000i is a versatile, computerized machine that's perfect for both sewing and quilting enthusiasts. It features:
70 built-in stitches, including decorative, utility, and quilting stitches
Wide table for larger quilting projects
Maximum sewing speed of 750 stitches per minute
This good sewing machine, equipped with an automatic needle threader, allows you to complete your sewing projects efficiently. You can use it for a variety of tasks, from quilting to garment construction. It offers smooth fabric feeding and precise stitch control, making it an ideal choice for any level of sewist. The machine features an intuitive LCD screen that displays all your settings and provides helpful tutorials. Plus, the machine's LED lights will help you see clearly when sewing in low light. With its sturdy construction and easy-to-use features, this machine is sure to become a go-to tool in your sewing arsenal. You can be confident that all of your projects will turn out perfectly with the help of this reliable machine.
It also includes useful accessories, such as a free arm and:
a spring action quilting foot
1/4" piecing foot
walking foot
quilting guide
Those keen on exploring a variety of sewing techniques will find the feature-rich Brother CX7000i to be a reliable machine. This is one of the best Brother sewing machines you can buy today.
Brother HC1850 Sewing Machine
Advanced sewers and quilters may find the powerful, computerized HC1850 to their liking. With an impressive 185 built-in stitches, this machine offers a wide range of sewing possibilities. It boasts an LCD display for easy stitch selection and a jam-resistant bobbin system, ensuring smooth and hassle-free sewing. The adjustable speed control allows for more intricate and detailed stitching, while the heavy-duty metal frame offers superior stability and durability. This allows it to work through multiple layers of fabric. Additionally, an impressive selection of accessories are included to provide further convenience and creativity. Whether you're tackling a challenging quilting project or simply doing general repairs around the house, this machine is sure to meet your needs!
Although the HC1850 may not be the best choice for beginners due to its extensive features and higher price point, its advanced capabilities make it a perfect sewing companion for experienced sewers looking to expand their sewing skills. This is one of the best Brother sewing machines for those on a budget and interested in quilting.
Brother XM2701 Sewing Machine
For those just starting their sewing journey, the Brother XM2701 Sewing Machine is a fantastic choice. This beginner-friendly, machine offers:
27 built-in stitches
Easy-to-use interface
Lightweight design (12.6 lbs) for easy portability
Six presser feet, including a buttonhole foot, button sewing foot, narrow hemmer foot, zipper foot, blind stitch foot, and zigzag foot.
With decorative, quilting, and basic straight stitches, the XM2701 provides versatility for a range of sewing and crafting activities at an affordable price.
Offering great value and ease-of-use, the Brother XM2701 is one of the best Brother sewing machines for beginners.
Brother XR9550 Sewing Machine
If you're an intermediate sewer looking for a feature-rich sewing machine, the Brother XR9550 is an excellent option. This machine comes with:
110 built-in stitches, catering to various sewing needs and projects
An LCD screen that makes it easy to select stitches
Additional quilting features
A hard carrying case
The XR9550, a versatile, computerized sewing machine, is a promising choice for sewers with some experience who aim to broaden their skills.
Brother GX37 Sewing Machine
The GX37 is a versatile sewing machine for quilters of all skill levels. It's lightweight and easy to use, so even beginners can feel comfortable sewing with it. The GX37 comes with an automatic threader, drop-in bobbin, reverse stitching feature, and adjustable stitch length for more precise sewing. Plus, it has a wide selection of decorative stitches and comes with a selection of presser feet for quilting or other specialty projects. I've had my GX37 for almost a year and it's been an amazing workhorse! It's reliable, powerful, and durable enough to handle even the most intricate sewing tasks. Highly recommend!

The GX37 is a mechanical machine that features 37 stitch options, a horizontal full rotary hook bobbin system and an automatic needle threader. It also includes an LCD screen for adjustable stitch length up to 5mm and width up to 7mm. The machine is lightweight and easy to use, making it perfect for quilters of all skill levels. With its built-in LED light and strong motor, the GX37 can handle thick fabric with ease. It also has a convenient free arm that is great for sleeves, cuffs and other areas of hard-to-reach places. The GX37 comes with several accessories including an extension table, seam ripper, spool net, two screwdrivers and more. This machine is perfect if you are looking to upgrade your sewing game.
Brother SE700 Sewing and Embroidery Machine
For sewers who enjoy both sewing and embroidery, the Brother SE700 Sewing and Embroidery Machine is a fantastic combination machine. With 100 built-in embroidery designs and 240 built-in stitches, this machine offers a wealth of creative possibilities for various projects. The generous workspace and stylish, modern design make it an attractive addition to any sewing room.
The Brother SE700, capable of performing both sewing and embroidery tasks, is a commendable option. It has an LCD touchscreen, 60 built-in stitches, and 5 lettering fonts. The machine is jam-packed with features including automatic needle threader, top drop-in bobbin system, adjustable speed control for both sewing and embroidery functions, and a maximum embroidery size of 4″ x 4″. Its LED lighting illuminates the workspace for optimal visibility and the machine is equipped with a USB port to transfer designs from your computer. In addition, the SE700 includes an automatic thread cutter, an independent bobbin winding motor, and two built-in fonts for monogramming. All in all, this is an excellent choice for any quilter or embroiderer looking for a versatile embroidery machine that can do it all.
Brother LX3817A Sewing Machine
For beginners on a tight budget, the Brother LX3817A Sewing Machine is a cost-effective, mechanical sewing machine. Although it may not have as many features as some of the other machines on this list, the LX3817A still provides the essentials for various sewing tasks at an affordable price point.
The Brother LX3817A is a worthy choice for those looking for an affordable yet reliable sewing machine. It features 17 built-in stitches, including four one-step buttonholes and three styles of auto-size buttonholes. The adjustable stitch width and length make it easy to customize your project for the perfect look. This machine has a free arm, so it's great for sewing cuffs and sleeves, and the LED light makes it easy to see what you're working on. The included hard cover keeps your machine safe when it's not in use, and the reverse switch allows you to easily back stitch for secure seams. With its lightweight design and budget-friendly price tag, the LX3817A is a great choice for quilters of all skill levels. No matter what type of project you're working on.
Brother PQ1500SL Quilting and Sewing Machine
For professional sewers and quilters, the Brother PQ1500SL offers features such as:
High-speed, straight stitch sewing and quilting
Adjustable pin feed mechanism
Push-button auto thread trimmers
Auto needle positioner
This machine is designed to handle large projects with ease, making it perfect for those who require a reliable machine for their business or serious hobby. It features an expansive work space and a sturdy metal frame, making it the perfect machine for long-term use. The bobbins are easy to load and the bobbin winder is jam-proof, so you can be sure that your stitches will always be smooth and even. With variable speed control, you'll have precise control over each stitch, allowing for intricate projects.
Professional sewers and quilters may consider the Brother PQ1500SL, known for its heavy-duty construction, spacious throat, and wide table, as a prime choice. With its 1,500 stitches per minute speed and presser foot lift of up to 7 mm, the Brother PQ1500SL is perfect for quick quilting projects. It also features an automatic thread cutter, so there is no need to stop and cut threads when you're in the middle of a job. And with its adjustable knee lift lever and built-in LED lighting, the Brother PQ1500SL is designed to make quilting and sewing tasks easier. In addition, the foot controller allows you to customize your settings for even more convenience. Whether you are a professional quilter or sewer, the Brother PQ1500SL has everything you need for efficient stitching! Plus, its wide table provides more space to lay out projects and easily maneuver fabric. With so many great features, it's easy to see why it is a popular choice among quilters and sewers alike.

No matter what project you are working on, the Brother PQ1500SL has everything you need for reliable results every time.
Key Features
Brother machines are known for their user-friendly interface, versatile stitch selection, and innovative technology. Whether you're using a mechanical or computerized machines, Brother ensures that their machines are easy to use and navigate, making them suitable for sewers of all skill levels.
With a wide range of built-in stitches and cutting-edge technology, Brother sewing machines cater to various sewing needs and projects, from basic repairs to quilting and embroidery. Subsequent sections delve into these key features and guide you in choosing the apt Brother sewing machine.
User-Friendly Interface
One of the most significant aspects of Brother models is their user-friendly interface, which ensures ease of operation for sewers of all skill levels. Mechanical machines typically have controls on a turn dial, while computerized machines feature controls on an LCD screen. In this context, a mechanical machine refers to a non-computerized machine.
Regardless of the type, they are designed to be intuitive and easy to use, allowing you to focus on your sewing or quilting projects without getting lost in complicated settings.
Versatile Stitch Selection
Brother models offer a versatile stitch selection to cater to various sewing needs and projects. With built-in stitches ranging from:
basic, straight stitches
zigzag stitches
decorative stitches
buttonhole stitches
You'll have plenty of options to choose from.
Some models even include embroidery designs and stitches for creative embroidery projects. No matter what type of sewing task you have in mind, they usually provide an extensive array of stitch options to help you achieve your desired results.
Innovative Technology
Utilizing state-of-the-art technology, these cutting-edge models elevate the sewing experience, enhancing it to new levels of excellence. Computerized controls, automatic features, and generous lighting are just a few examples of the innovative technology found in these machines.
For instance, the Brother New for 2023 product lineup features:
Best-in-class sewing, quilting, and embroidery machines
Latest innovations
Large touchscreens
Unique features for different skill levels
Experience professional-level results and a seamless sewing journey with cutting-edge technology at your fingertips..
Factors to Consider When Choosing a Brother Sewing Machine
In order to choose the perfect machine for your needs, there are several factors to consider, such as the purpose of the machine, your skill level, and your budget. These factors will help you narrow down your options and ultimately find the ideal sewing machine to match your unique sewing journey.
We will delve into these factors in the upcoming sections and guide you towards making a well-informed decision.
Purpose of the Sewing Machine
The primary use of the machine is a crucial factor when selecting the right Brother sewing machine. Different sewing machines are designed for distinct types of crafting projects, so it's essential to consider the specific tasks you plan to undertake.
For instance, if you plan to do basic sewing tasks like hemming or mending, a simple, cost-effective machine may be sufficient. On the other hand, if you plan to tackle more intricate projects like quilting or embroidery, you'll need a machine with advanced features and capabilities.
By considering the purpose of the sewing machine, you can ensure that you select a machine that meets your particular requirements and enables you to achieve the desired results.
Skill Level
Your skill level is another important factor to consider when selecting a Brother sewing machine. Beginner-friendly machines offer simplicity and ease of use, while advanced machines provide more features and capabilities. Selecting a sewing machine that aligns with your skill level is crucial for an effortless and pleasurable sewing journey.
For instance, beginners should opt for a machine with a straightforward and intuitive interface, while experienced sewers may prefer a machine with advanced features and a wide range of stitch options.
Budget
Budget is an essential factor to consider when selecting a machine. With options available at various price points, it's important to set a realistic spending limit and find a machine that meets your needs without exceeding your budget.
By considering your budget, you can prioritize the features and functionalities that are necessary and ensure a wise investment in a sewing machine that fits within your financial means. These machines cater to a range of budgets, from cost-effective beginner machines to more advanced, higher-priced models.
Maintaining Your Machine
Proper maintenance of your Brother sewing machine is crucial to ensure its smooth operation and prolong its lifespan. Regular cleaning and oiling, needle replacement, and troubleshooting common issues are essential steps in maintaining your sewing machine.
Subsequent sections will offer tips on maintaining your Brother sewing machine, including cleaning, oiling, replacing needles, and troubleshooting common issues.
Cleaning and Oiling
Regular cleaning and oiling of your Brother sewing machine will ensure smooth operation and prolong its lifespan. To clean and oil your machine, first, make sure it's powered off and unplugged. Use a soft cloth to gently remove any dust or dirt from the machine.
Then, apply a few drops of sewing machine oil to lubricate the moving parts of the machine. It's recommended to clean and oil your Brother sewing machine every six months or after every ten hours of use.
Needle Replacement
Replacing needles as needed is essential to maintaining sewing quality and preventing damage to your machine or fabric. To replace a needle, first, ensure that the machine is powered off and disconnected from its power source. Loosen the needle clamp screw and remove the existing needle.
Insert the new needle with the flat side facing the rear of the machine, and securely tighten the needle clamp screw. It's necessary to replace a needle when it's bent, dull, or has a burr.
To ensure needles are well maintained, use the appropriate size and type of needle for the fabric and thread being used.
Troubleshooting Common Issues
Mastering the art of recognising and troubleshooting prevalent sewing machine problems, like thread tension issues and skipped stitches, is vital to ensure a seamless experience.
When addressing common issues with a Brother sewing machine, it's important to first identify the problem. Next, take appropriate measures to resolve it, such as adjusting the thread tension or cleaning and oiling the machine.
Consult the user manual for your machine for guidance on troubleshooting and resolving common issues, and consider seeking advice from online resources and forums for additional tips from experienced sewers.
Accessories and Attachments
Brother sewing machines provide a myriad of accessories and attachments that enrich your experience. From presser feet and extension tables to bobbins and bobbin cases, these supplementary components aid in achieving professional-grade results and ensure a seamless and enjoyable sewing journey.
The subsequent sections will delve into the range of accessories and attachments available, outlining their advantages and applications.
Presser Feet
Presser feet are essential attachments for your sewing machine that help guide the fabric through the machine and create different types of stitches, such as zigzag, blind hem, and buttonhole stitches.
Most machines offer a variety of presser feet, each designed for specific sewing tasks and techniques. By utilizing the appropriate presser foot for your sewing project, you can achieve precise and professional results.
Extension Tables
Extension tables are useful attachments that provide additional support and stability when working on large projects, such as quilting or sewing bulky fabrics. By offering increased workspace, extension tables help to reduce vibration and facilitate the maneuvering of fabric around the sewing machine.
When selecting an extension table, consider the size and shape of the table, as well as the type of fabric you'll be using, and ensure it's compatible with your sewing machine.
Bobbins and Bobbin Cases
Bobbins and bobbin cases are essential components of your sewing machine that store thread and prevent it from becoming tangled. To ensure smooth sewing operation and avoid thread tension issues, it's crucial to use the correct bobbins and bobbin cases for your Brother sewing machine.
Consult your machine's manual for guidance on selecting the appropriate bobbins and bobbin cases for your specific sewing machine.
Summary
In conclusion, Brother sewing machines offer a diverse range of options to cater to various sewing needs, skill levels, and budgets. With their user-friendly interface, versatile stitch selection, and innovative technology, Brother sewing machines are a reliable choice for both beginners and experienced sewers. By considering factors such as purpose, skill level, and budget, you can select the perfect machine to match your unique sewing journey. With the right machine and proper maintenance, you'll be well on your way to creating beautiful sewing or quilting projects and enjoying a rewarding experience.
Frequently Asked Questions