If you're serious about quilting, you're probably considering a long arm quilting machine. Offering a larger throat space, powerful motors and advanced controls, long arm machines make quilting a breeze.
But like any other quality piece of equipment, long arm quilters are an investment. It's important to choose a model that meets your needs and budget.
To make your decision easier, we've rounded up our top nine picks for the best long arm quilting machines in 2023.
Summary
Selection Criteria For Our Long Arm Quilting Machines
Build Quality
If you are going to invest hundreds or thousands of dollars on a quilting machine, it better last. The reviews below include long arm quilting machines that have great testimonials and won't cause you grief after years of use.
Throat Space
Throat space is probably one of the most important factors when choosing a machine. The more "throat" space you have, the more room you have between the needle and the base plate to work with larger quilts. Quite simply, the bigger the throat space the better.
Stitch Speed
If you are working on a lot of quilts, the faster the stitch speed the better. Once you get used to going a certain speed you will save a ton of time. Stitch speed is indicative of the power of your machine's motor. 1500 SPM (stitches per minute) is great for user who are intermediate while professionals look for 1800 SPM.
Stitch Regulation
Professional quilters need this feature. Being able to control your stitches more precisely will help you create a more finished looking product. Regulating the thread rate ensures uniformity in your stitches.
The Top Long Arm Quilting Machines 2023
Handi Quilter Simply Sixteen Long Arm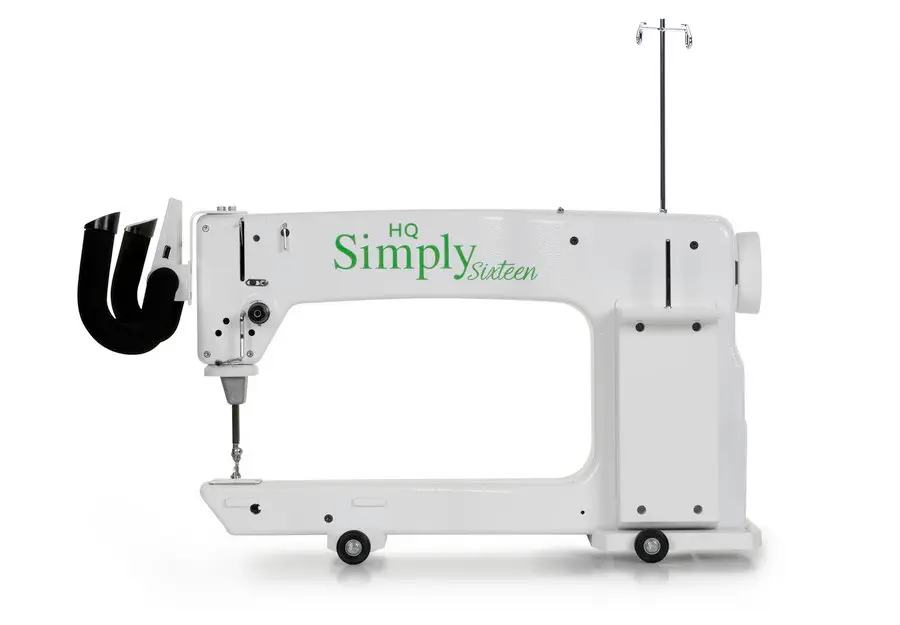 Are you ready to take your quilting to the next level? The Handi Quilter Simply Sixteen 16-inch Long Arm quilting machine is the perfect tool to make your quilting dreams a reality. With its 16-inch throat space, you'll have plenty of room to work with even the biggest projects. The machine also comes with built-in stitch regulation, making it easy to achieve consistently beautiful stitches. But the best part? The Simply Sixteen is designed to be user-friendly, so even if you're new to quilting or long-arm machines, you'll be able to jump right in and start creating stunning quilts in no time. Whether you're quilting for fun or for profit, the Handi Quilter Simply Sixteen is the machine for you.
Features:
16" throat width offering plenty of space to work with larger quilt blocks
Sleek and lightweight design for easy storage and portability
User-friendly control panel with easy navigation & quick access keys
Extended stitch regulation for reliable and precise stitching control
Intelligent threading system eliminates tedious threading steps
Soft touch foot pedal for effortless speed control
Easy to use drop in bobbin system
Extremely quiet operation with low vibration levels
Bright LED lights for illuminating the work area
Sturdy frame construction designed for durability
Experience the perfect blend of integrated technology and engineering that delivers the utmost functionality demanded by quilters. With the industry's smoothest stitch, the HQ Simply Sixteen quilter is meticulously handcrafted in the U.S.A., backed by the HQ warranty, and supported by a vast network of local representatives. When space is limited, this Handi Quilter long arm quilter emerges as the ultimate solution, surpassing all expectations.
Click here for pricing on the HQ Simply Sixteen quilter
Juki Kirei HZL-NX7 Computerized Long Arm Sewing and Quilting Machine
Juki's Kirei HZL-NX7 long arm sewing machine has a wide sewing area for all of your quilt fabric and a touch screen interface that allows for rapid feature changes. A smart feed design, featuring dual feed function, provides precision movement with no snags along the way.
Offering a maximum of 1,050 stitches per minute, 351 stitch patterns and four fonts, the only limitation is your imagination. The unit also features:
Interchangeable single needle system
Micro-lifter presser foot
Color touch panel
Bobbin thread counter
Thread tension settings
Guide
Dual feed
Knee lifting control
Presser foot pivot
Juki packs a lot of power into the HZL-NX7 with a robust digital display, improved stitch patterns and the ability to evenly sew through thick denim and similar fabrics. The work area is well-lit and you'll be able to rapidly make quilts and garments.
Even when free motion quilting, there's ample elbow room that makes working on complex projects fun again.
Pros
Advanced digital display
Needle position dials
Juki industrial sewing technology
Float function for even seams
Less expensive than others on this list
Cons
Needle threader catch difficulty
The needle threader can have difficulty catching, but this is a minor inconvenience. Juki's high-end quality, 20+ buttonholes, six LED lights and an array of other features make this a great long arm quilting machine.
Click here for pricing on the Juki Kirei long arm quilting machine
King Quilter II ELITE Long Arm Quilting Machine
The King Quilter II Elite is a sturdy, reliable and professional long arm quilting machine. Made in the USA, this machine offers easy operation with advanced function and electronics. You also get some great bonuses with this machine, including:
2 bonus rulers: 2" x 6" long arm mini ruler and multi-purpose tool
Quilting kit: Glide foot 2, light strip, easy-fit ruler base and sure foot
The King Quilter II has front and rear handlebars for versatile movement and easy operation at either side of the machine.
The 7" touchscreen tablet allows you to control the machine with the touch of a button. Handlebar controls allow for manual operation. With the touch of a fingertip, you can autosize, rotate and repeat patterns. A needle up/down function is also available on the manual controls.
The King Quilter II can deliver 2,200 stitches per minute, with special modes:
Cruise mode
Precision mode
4-22 stitches per inch
Basting stitch
An 18" throat space and 8" throat height allows you to easily tackle large patterns. Optimal lighting placement ensures that you can see your project even in low-light environments.
Pros
Fast stitching (2,200 SPM)
Handles on both sides for front or rear operation
Large touchscreen display
Comes with free rulers and a quilting kit
Cons
The King Quilter II Elite does have a learning curve, but once you get the hang of it, operation is a breeze.
If you're a long armer who wants the ability to operate from the front or rear, the King Quilter II Elite is a great option.
Click here for pricing information on the King Quilter II Elite
Q'nique 21 Long Arm Quilting Machine
The Q'nique 21 is a professional long arm quilting machine with user-friendly features and an advanced design. In our opinion, it's the best long arm quilting machine.
Quick stitching, smooth operation, vibration-reducing design and simple user controls make the Q'nique 21 a pleasure to use.
This long arm quilting machine can perform an impressive 1,800 stitches per minute (2,600 if you upgrade to the Pro version). A colorized 5" OLED screen makes it easy to control this machine and view your options. Features like a bobbin estimator and adjustable handles make your life easier. A 21" throat space gives you plenty of room to work on larger patterns and blocks.
Stitch regulation is available on several of the stitch modes, giving you complete control over your quilting.
All of the machine's major functions can be controlled from the handles, which are adjustable and have a comfort grip design. Six quick-access buttons allow you to control major functions with the push of a button.
The Q'nique 21 also has other special features, like work lights and an automated bobbin winder.
Pros
Fast stitching
Easy controlling through the adjustable handles
Large, color OLED display
Stitch regulation
Large throat space
Cons
Some other long arm quilting machines have more advanced lighting functions that make it easy to see your project from virtually any angle. The Q'nique 21 does have work lights, but the system could be better.
Overall, the Q'nique 21 offers the best value, with advanced features and functions that will improve your long arm quilting.
Click here for pricing information on the Q'nique 21 long arm quilter
Handi Quilter Amara 20 inch Longarm Quilter Machine
The Amara 20" long arm quilter machine offers convenient features and advanced functions that serious hobbyists will love, like:
Adjustable handlebars with editable buttons
Large LED display with touchscreen functions
Easy-to-use tension knob
Accurate needle laser
Strategic LED lighting in at the bobbin, needle and throat
The 7" touchscreen display makes it easy to bring your projects to life. You can control the lighting from the menu, and there's even an on-screen hand wheel.
The front handlebars can be independently adjusted and are ergonomically designed for comfortable use. Stitch regulation ensures perfect stitching with two modes: cruise or precision.
All of the handlebar buttons are programmable. Other standout features include:
2,500 stitching speed
5 built-in tie-off stitches
Magnetic tool minder feature
Thread-breaker sensor and alert
Compatible with Handi Feet
Rotary hook with M-class bobbin
Bobbin estimator
Front power stitch
Stitch counter
5 basting stitches
Pros
Programmable handlebar buttons for personalization
Large touchscreen display for easy navigation
LED lighting in key important areas
Quick stitching speed
Regulation controls
Special stitches
Cons
Laser light not that useful
The laser light feature isn't as useful as you might think, but it doesn't take away from the machine's performance in any way.
The Handi Quilter Amara is an overall great option as an entry level machine for a beginner long arm quilters.
Click here for pricing information on the Amara long arm quilting machine
Consew Premier 1255RBL-18 Single Needle Long Arm
The Consew 1255RBL-18 has a variety of longarm quilting features, including walking foot, drop feed and needle feed, but it's also an excellent lockstitch machine.
The 1255RBL-18 has 18" of working space and a fast sewing speed of 2,000 stitches per minute. Other features and specs include:
Oil pump system and adjustable oil flow
Large vertical axis w/automatically oiled hook
Upper oil gas sight
Presser foot lift by hand or by knee
Reverse function
Safety clutch
Barrel-style locking stitch regulator
A locking slide plate gives you easy access to bobbins, which are top-loaded. An adjustable take-up thread guide allows for thread loop timing, and the quick tension release is convenient.
The 1255RBL-18 has a Servo Motor, which uses 90% less energy than clutch motors and is 1/3 lighter.
Pros
Servo Motor
Fully assembled table included
18" of working space for large patterns
Quick stitching speed
Cons
The 1255RBL-18 does not have touchscreen functionality or even longarm handle controls. It's not quite as advanced as other machines that are similar in price.
With that said, if you're looking for a simple but reliable long arm machine, the Consew 1255RBL-18 may be a good option for you.
Click here for pricing information on the Consew 1255RBL-188 long arm quilter
Consew 206RBL-30 30 inch Long Arm Machine
The Consew 206RBL-30 is a long arm quilting machine for home use that comes with a fully assembled table and Servo Motor. Industrial quality makes this machine reliable and durable. The 30" workspace gives you plenty of room for your projects, and you can also use this machine for other projects that call for difficult materials, like leather, canvas, vinyl and laminated materials.
The 206RBL-30 offers a sewing speed of 1,800 stitches per minute and extra-long stitches at 21/2 S.P.I. This machine has a high presser foot lift and centralized arm lubrication. There's a thread release finger for heavy-duty thread and a safety clutch with a re-engagement button.
The machine's foot, needle plate and feed dog can all be replaced for special projects and operations. The center foot can be raised or lowered as needed to accommodate fabrics of different thicknesses.
Pros
Versatile machine
Large 30" workspace
High presser foot lift
Servo Motor
Easy operation
Cons
No touchscreen display or long arm controls
The 206RBL-30 is a heavy-duty, flatbed sewing machine with a long arm. It's a great option for a long armer that wants a simple machine with manual controls. But if you want quilting-specific features, you may want to look elsewhere.
Click here for pricing information on the Consew 206RBL-30 long arm sewing machine
Consew 255RBL-25 Long Arm Lockstitch Machine with Assembled Table and Servo Motor
The Consew 255RBL-25 long arm sewing machine offers an assembled table, high-end quilting frame and Servo motor in a heavy-duty machine built to last years with daily use. Fabric, canvas, denim, leather and other thick fabrics are easy to sew with Consew.
Semi-automatic lubrication systems, hook lubrication, compound feed, and 2,200 stitches per minute are a few of the many features offered.
Additional Features Include:
2-1/2 stitch per inch
25" workspace
Pre-wound U bobbin
Safety handwheel
Stitch length indicator
Reverse stitch
Center foot adjustment bolt
Dial adjustments
Offering a 25" workspace and ample 2-1/2 stitch per inch, the 255RBL-25 provides a powerful option for quilting and makes quick work out of thick fabric, including multi-layer canvas.
Pros
Quick dial adjustment
Presser foot adjustment nut
Easily sews through multiple thick layers
Reverse stitch for greater functionality
Cons
Consew's heavy duty quilting machine is built with fewer electronic parts, allowing for a more durable design. Lack of a digital display is easily overlooked with easy dial adjustments. If you're in the market for a heavy-duty quilting machine that lacks electronic components that easily break, Consew is a solid choice.
Click here for pricing information on the Consew 255RBL-25 long arm quilter
Handi Quilter Capri 18 with HQ InSight Stitch Regulation Table
Handi's Quilter Capri comes with the HQ InSight table and provides a rapid stitching speed of 2,200 stitches per minute. A roomy 18" of throat space and the ability to sew 4 to 22 stitches allows users to create quilting motifs of all lengths, types and types.
The longarm spans a generous 36" x 32," and a color touchscreen allows for rapid adjustments to your stitches.
Additional features include:
2,200 stitches per minute
Needle stop position control
Responsive foot pedal
Precision or cruise modes
Low-bobbin estimator
Quilting alarm
Project timer
Built-in diagnostics
Preset saving
Videos and tutorials on company site
Handi Quilter's Capri 18 is a "beginner" machine filled with features, ample stitches and comes with an adjustable able that can be adjusted from 25.5" and 39.5". Ample lighting and an easy threading process allow you to get started with quilting as quick and effortlessly as possible.
Pros
10-year (casting) and 5-year warranty (mechanical/electric)
Handi Feet compatible
Walking and five basting stitch options
Easy upgrade options
Cons
Less stitch options than alternatives
Handi is compatible with the Handi Feet quilting foot. This sewing machine is updated with USB, and it's in the beginner price range, with a lengthy 10-year warranty on casting and 5-year on mechanical components. With high stitch speeds and precision modes, it's a great long arm quilting machine for beginners and intermediate users.
Click here for pricing information on the Handi Quilter Capri long arm quilter
We hope this post on the best longarm quilting machine helped you find the one you were looking for. Happy quilting!
Frequently Asked Questions
What is a longarm quilting machine?
A long arm quilting machine is a type of sewing machine with an extended arm and table, designed for quilting large pieces of fabric.
How does a long arm quilting machine work?
The machine works by sandwiching the quilt top, batting, and backing together. It's then moved under the sewing machine head which stitches the layers together.
What are the benefits of using a long arm quilting machine?
Unlike a typical sewing machine, longarm quilting machines can handle large quilts easily, offer consistent stitching, and save a substantial amount of time compared to hand quilting.
Are long arm quilting machines easy to use?
There is a learning curve to using a long arm quilting machine. However, with practice and patience, most people find they can produce beautiful, professional-quality quilts.
Can a long arm quilting machine be used for other sewing projects?
While a longarm quilting machine is designed for quilting, some models may also be suitable for other large sewing projects. It's best to check the machine's specifications and capabilities. For some projects you may be better to use a domestic sewing machine.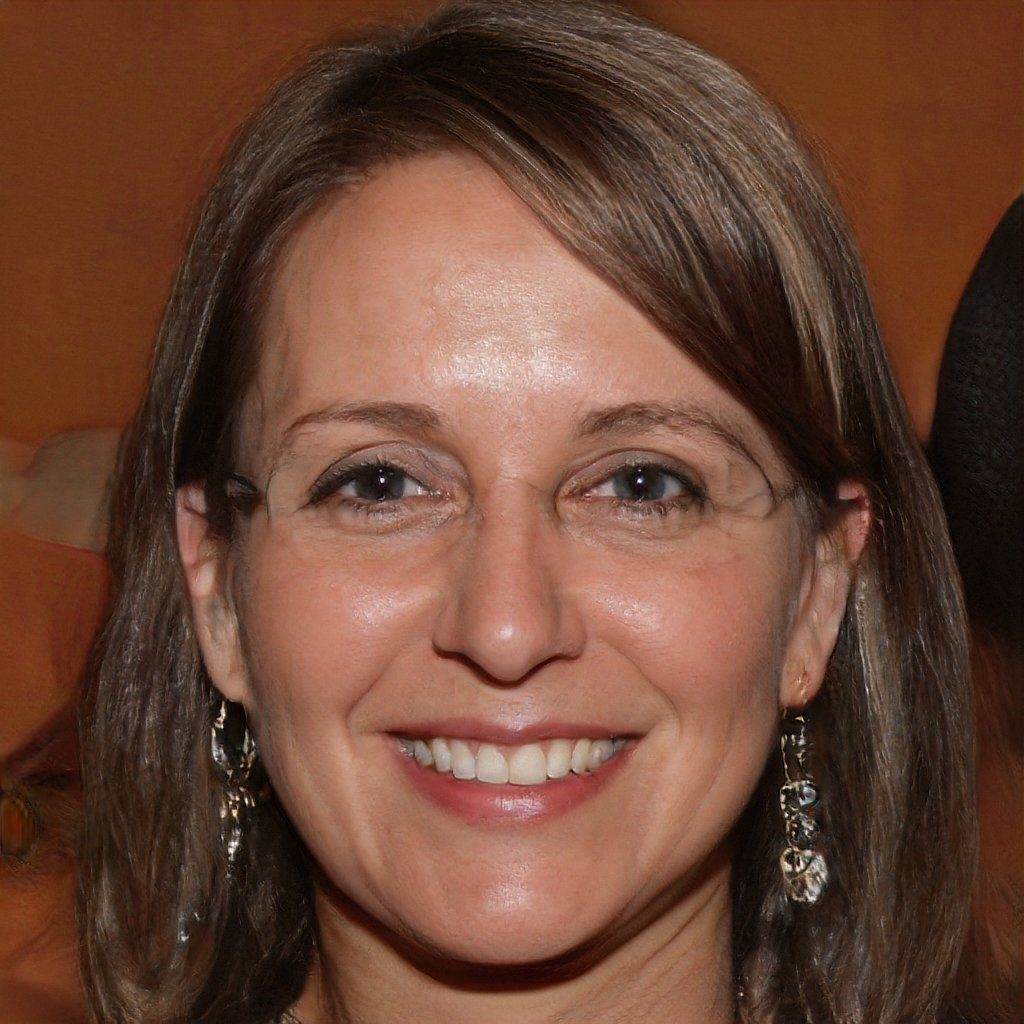 Hello and welcome to my website! My name is Shannon and I have been and avid quilter for over 25 years. My love of quilts came at an early age where I was taught by my grandmother when I was around 12 years old and her patience and love of quilting brought me to where I am today.