If you are a serious quilter, you need a reliable iron for your fabric and quilting projects. However, finding one that produces great results that is also reliable isn't always easy.
If you've done any ironing in your life, I'm sure you've found that some irons leak, others burn, and then there are those that quit working after a few months. If you are going to spend your hard-earned money we don't want that to happen to you.
This post will share with you the top rated quilting irons available today. These quilting irons will save you time and headache when working on your quilting or sewing projects.
Best Irons for Quilting in 2023 Reviews
We've done our research and listed below the best irons for quilting you can buy today. One of the most important and hardest to find features is auto-shutoff. We have listed a couple of irons we love that don't have auto-shutoff. We hope this list makes your decision a lot easier. On to the list…
The Rowenta DG8624 steam iron is by far our favorite iron for working with sewing or quilting fabrics. It is more expensive than most others on this list, but if you work with fabric, you will be happy you purchased this amazing iron.
Pros:
5 bars of pressure to get those wrinkles out
1800 watts of power
No auto-shut off!
Eco setting saves you 20% of energy
Large removal water tank
Best iron for sewing and quilting
Cons:
When it comes to ironing, times have changed. You don't need to worry about scorching your clothes or quilts. Quilting irons have been known to be some of the best in the industry because they've been designed to work on delicate fabrics. However, very few can match the quality and features offered by the Oliso TG1600 Steam Iron. If you are an avid quilter, we feel that this is the best iron you can buy today.
It's the next generation in ironing, and it's going to change the way you press your fabric or clothes forever.
There's old school ironing, and then there's ironing with the Oliso. From start to finish, this model feels like a new and exciting experience. You'll begin by filling the water tank from the side, which also allows you to add more water mid-use for the utmost in functionality.
When you plug this model into the wall, you'll notice that the cord is a staggering 12 feet in length, and the company has included a 360 pivot. We love this and think it's one of the best add-on's on this model.
Pivoting makes a huge difference.
You'll be able to pivot the cord to make it easier and faster to press your clothes, quilts and any other items. No longer do you need to reposition your ironing board or use a bulky extension cord to find just the right angle to press all of your clothes.
Every year, countless fires start and garments get scorched because people forget to shut off their iron.
The Oliso TG1600 has an auto shut-off time of 30 minutes, reducing the risk of fires. The soleplate still stays hot for quite some time after the shutoff timer is reached, so you can proceed to press your clothes at this time if you wish.
A burst of powerful water is provided via the Tripleplay Xtremesteam and Pro-Press soleplate. This will remove creases or wrinkles from any type of fabric.
Continuous vertical and horizontal bursts of water are provided, so you can confidently press all of your quilts and garments as efficiently as possible.
The handle is the best in high-tech. When users lift their hand off of the handle, the soleplate will lift up off of the garment. This will help you avoid:
Fires
Burning clothes
Scorches
If you've ever had to juggle ironing, cooking dinner and watching rowdy children, you know just how easy it is to get distracted and burn your clothes. This is a thing of the past with the Oliso TG1600 steam iron.
If you find yourself ironing often, you owe it to yourself to give the Oliso a try. This is one of the world's best and most advanced irons and makes ironing fun again. We well it is the best quilting iron you can buy today.
It's the iron that has melded technology and functionality into one neat package to make ironing easy for everyone involved. An ironing board cover is offered for free, too, to sweeten the deal.
The Oliso TG1600 with iTouch technology is the best iron for quilting you can buy in 2023. Oliso makes some of the most reliable irons for quilting so you can consider this as an investment as you will be using it for a long time.
Pros:
Lifts to help avoid scorches and burns
1800 watts of power
Auto shut off system for added safety
Pivoting handle makes ironing a breeze
Cons:
Rowenta is an iconic brand. The company, founded in 1909, is a German brand that has revolutionized home appliances with refined designs, technological advancements and features that have turned industries upside down.
One of the key products in the company's lineup (and there are many) is the Rowenta steam iron.
Sleek, stylish and powerful, these steam irons can help everyone from the seamstress that needs fabric to be wrinkle-free to the professional that needs their suit to be pristine at their next big meeting.
The Rowenta DW7180 is affordable, sleek and one of the best rated micro steam irons on the market today. Designed from the bottom up for quality, this model offers spectacular features with German craftsmanship, ensuring a durable, long-lasting product that you'll use for years.
When we conducted our Rowenta iron review, we found that this model felt solid in our hands. The weight of the unit is 3.4 pounds, and the water tank held enough water to iron a variety of garments.
Simple and easy to fill, you'll notice the stainless steel soleplate features a patented design. There are 400 holes in the design that allow the steam iron to glide across garments effortlessly and a precision tip to all areas of your fabric.
The tip of the plate is high-precision, allowing you to get between buttons and along seams quickly and easily.
A click of a button allows for 100 grams of water to burst out of the unit every minute. The anti-drip system ensures water drops don't escape from the iron, and there is a 3-way smart safety system that will shut off the iron if:
Tipped over for 30 seconds
Left upright for 8 minutes
Left horizontal for 30 seconds
This is a protectant that ensures your clothes and garments never burn – and no fires occur.
When it comes time to clean the unit, there is a self-cleaning system that works to flush out all deposits in the 400-hole plate to ensure optimal performance. The anti-calcium system removes calcium from the unit and eliminates buildup during every use.
This is a high-end steam iron, and you'll find steam emitting from the 400 holes.
Freshly pressed clothes never looked as good as they do after a fast ironing with the Rowenta iron DW5080.
This is the iron that professional seamstresses recommend because it's able to get out all those imperfections and wrinkles that leave garments looking less than perfect.
Pros:
Self-cleaning feature
Energy Saver – Uses 25% less energy than standard irons
3 manual settings
Stainless steel soleplate
Cons:
Weight balance a little awkward at first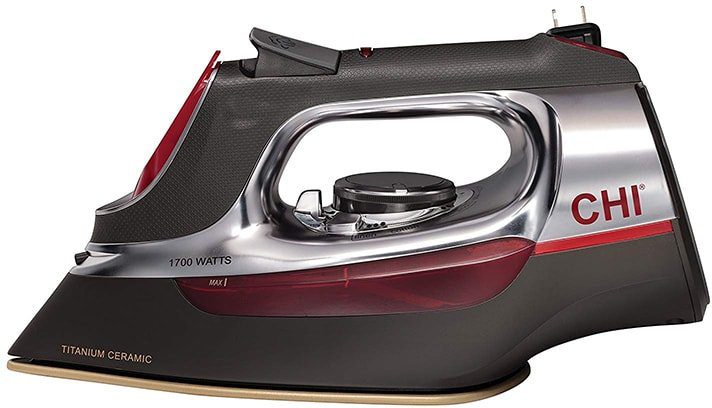 Made by the same company that produces some of the best-selling hair flat irons, the CHI 13102 professional steam iron is powerful, comfortable to hold and is made from advanced materials.
This professional-grade iron is ideal for serious quilters and boasts some pretty impressive features.
The iron has a titanium-infused ceramic soleplate, which is the same technology used with hair styling tools. The plate has 400 steam holes for advanced steam performance, which makes it easy to get out wrinkles.
On the handle of the iron, there are two convenient, easy-to-access buttons that allow for spray, blast and adjustable steam functions. The control panel swivels to give you easy access to the water tank.
One thing that really makes this iron stand out is the electronic temperature control function. The illuminated control allows you to choose your fabric and the iron chooses the temperature automatically. This completely eliminates the guesswork.
The design of the iron itself is very modern, and it's comfortable to hold. The 13102 has chrome accents and a textured grip to make it easy to hold. There's also a retractable cord that will make your life easier.
CHI 13102 steam irons offer some impressive features that any quilter would love to have in an iron. This is one of our favorite models of irons for quilting today.
Pros:
Less expensive than others on the list
400 steam holes
Retractable cord
Ceramic soleplate
Cons:
Some people report leaking issues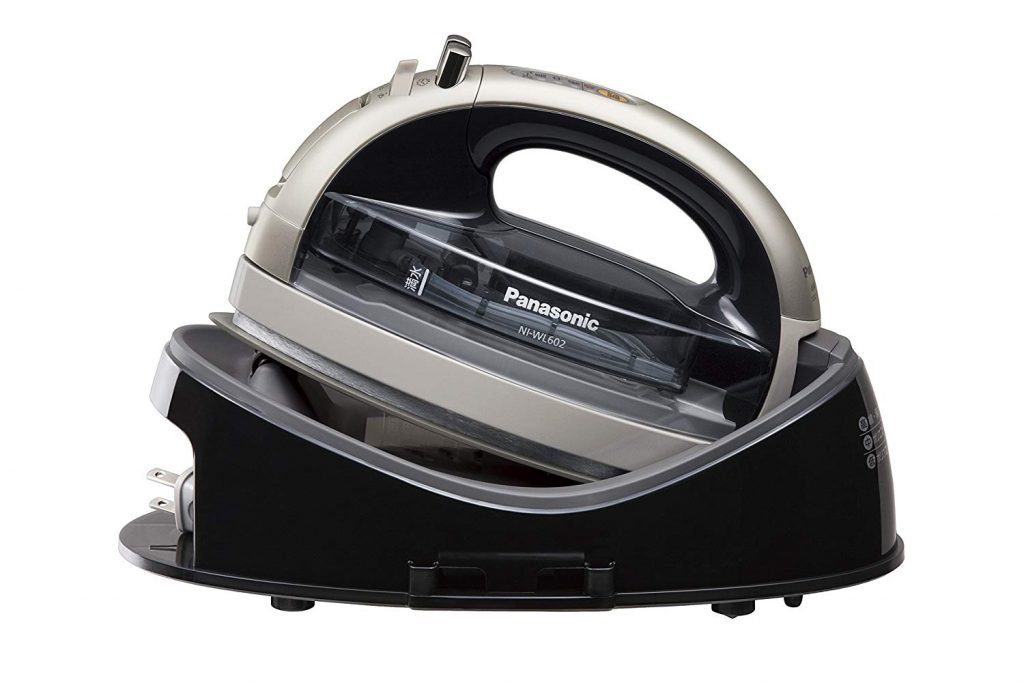 The Panasonic PAN-NI-WL600 cordless iron makes a great iron for quilting. Eliminating the cord gives you so much more freedom, so you can iron your fabric anywhere you please. And you never have to worry about iron cords hanging in the way while you iron out your quilt pieces.
The PAN-NI-WL600 offers an ergonomic design that allows for comfortable, natural movement while ironing.
The automatic shut-off feature automatically shuts off the iron after 10 minutes if left in the base. The steam vents also have a convenient stay-clean feature that prevents clogged vents. The anti-calcium system reduces sediment build-up in the iron's vaporizing chamber.
We like that this iron has an anti-drip system that seals the water inside of the iron. This feature prevents water spotting on fabrics. The vertical steam feature directs a burst of steam at hanging fabrics to remove wrinkles.
There's also an electronic temperature control feature. The easy-touch system allows you to select your desired temperature for ironing different fabrics. You can also adjust the steam level, and even choose between steam and dry ironing functions.
The PAN-NI-WL600 is a practical choice for quilters, and the cordless feature makes it such a convenient option for ironing quilting pieces. You can see other cordless irons we recommend here.
Pros:
Cordless
Anti-drip system
Easy to use
Cons:
Some will find the shape strange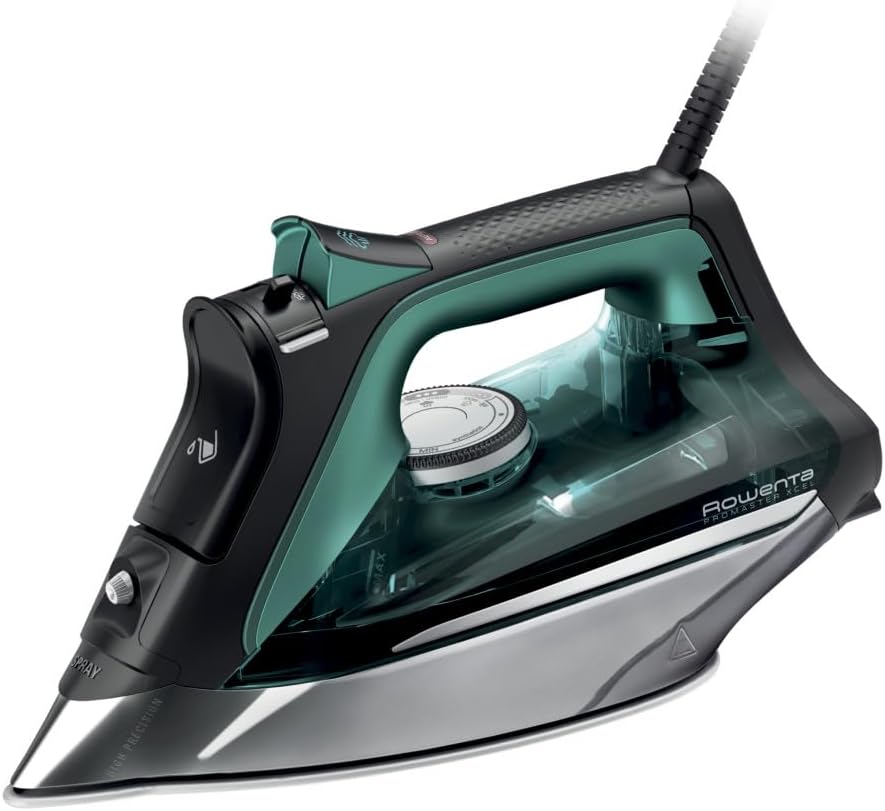 The Rowenta DW8360 is a lot like our previous pick, but this model is an eco-friendly version and features a black and green exterior that is stylish and sleek. This unit aims to be efficient. That efficiency can save 25% energy versus a standard iron, which is not only good for the earth, but for your wallet, too.
When efficiency matters most, the DW8360 can produce excellent results. This was the first energy efficiency steam iron in North America, and it saves users 25% on energy compared to the leading iron.
The 3D soleplate can offer optimal efficiency through less steam loss and less energy needed to produce optimal steam output and flow.
A rotary trigger enables left- and right-handed users to iron their clothes comfortably. There are three positions offered:
Dry – perfect for finishing
Eco – energy saving
Boost – the choice for thick fabrics
When compared to the 8360, this model can produce 180 grams per minute in bursts to remove water from difficult fabrics.
An anti-calc system is incorporated that will remove scaling from the system. The valve removes all scale to prevent the build-up of calcium that makes irons less efficient and hinders performance.
The same auto-off system is incorporated in this model that will shut the power off to the iron to prevent burning.
When garments are hanging, you can switch to the vertical position that allows for steam ironing even when clothes are still on the hanger. This allows you to iron pants quickly.
You can iron fast and quickly to produce a crisp fold in your garments. What this iron is missing is advanced heat settings, and this makes it less practical for delicate fabrics, such as nylon or chiffon. In truth, these fabrics shouldn't be ironed in the first place, so the iron will damage these fabrics due to it not being cool enough for the job.
With that said, you won't need more than the 3 heat settings offered for most fabrics, and the unit does an amazing compared to the competition.
Both steam irons from Rowenta can remove wrinkles from your clothes. Each model is affordable, and the price difference between the two is negligible at less than $10 at most stores.
If you're interested in saving on energy costs and doing what's best for the environment, the 8360 is the right choice. For a slightly more affordable model that is still able to iron out wrinkles with ease, the DW5080 will do the job perfectly each and every time.
Pros:
Energy saving features
Settings for thicker fabrics
Tons of steam power
Stainless steel soleplate
Cons:
Best steam iron for those on a budget
Black+Decker's D3030 features a heavy-duty, stainless steel soleplate that glides smoothly over fabrics to remove wrinkles quickly and easily. This iron gives you a lot of control over steam function and temperature, so you can use it with a variety of fabrics without worry.
The steam rate can be adjusted by customizing the digital settings, so the iron always delivers just the right amount of steam for your fabric type. The digital temperature control settings allow you to choose the precise temperature you want, and you can view the temperature on the LCD screen.
The LCD screen also lets you know when the iron has reached your desired temperature (the word "READY" will appear). You'll also be able to view the fabric setting directly on this screen.
Both the temperature and steam settings can be adjusted individually, so you have complete control of the ironing experience.
The D2030 will shut off automatically after 30 seconds if left sitting on its soleplate or side. If left on the heel rest, the iron will automatically shut off after 8 minutes.
The comfortable ergonomic grip also makes it easy to use this iron for long periods of time. If you're prepping for a big project, you won't have to worry about your hands getting fatigued.
The iron's setting dial is located directly under the handle, which can make it hard to reach and use for some people.
Aside from this minor inconvenience, the Black+Decker D3030 is durable, easy to use and has all of the safety features you could want in a steam iron. This is the best iron for quilting on a budget.
Pros:
Digital temperature controls
Independent steam adjustment
Ergonomic grip
Automatic shutoff features
Stainless steel soleplate
Best choice for those on a budget
Cons:
Setting dial is situated in an awkward place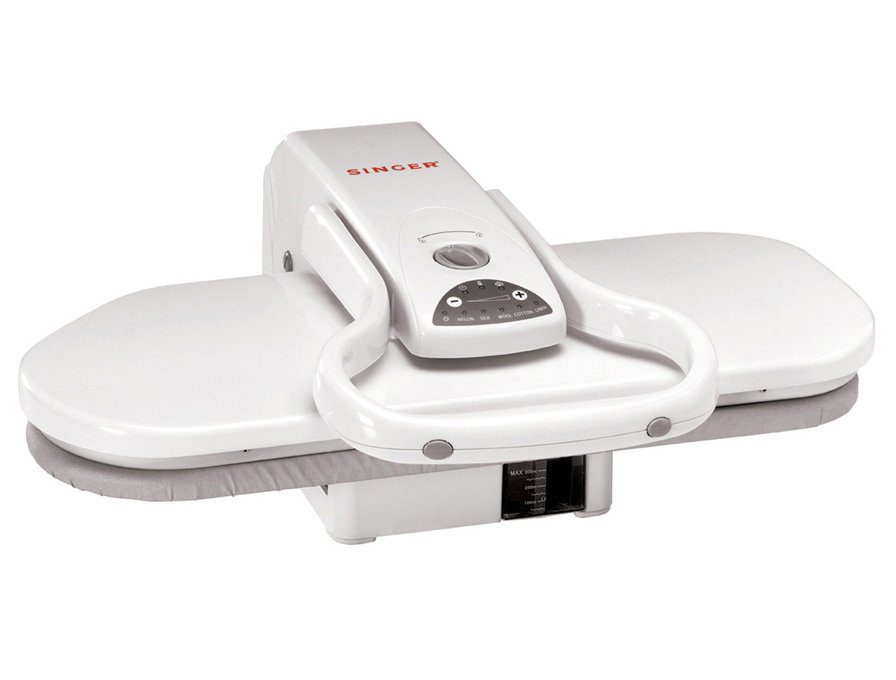 The Singer Steam Press EPS2 is nothing like your traditional iron. Delivering 100 pounds of pressure, this press delivers professional results with ten times the pressing surface of a conventional iron.
The Singer ironing press features an extra-large surface, so you can get your ironing work done in half the time. There's an electronic fabric temperature setting, too, so you can press just about any type of fabric, including linen and nylon.
The die-cast aluminum base adds to the durability of this model, while the alarm and auto shut-off features add extra layers of safety.
The Singer steam press features a clear water tank that's easy to read and refill. The water tank can hold up to 300mL of tap water.
To use this press, just place the fabric in between the cushion and steam plate, choose your desired temperature setting, and let the machine work its magic. When it's done, it will beep to let you know that it's time to remove your fabric. It's so easy to use, and really does cut your ironing time in half.
The great thing about this press is that it's easily transportable. The handles feature a locking mechanism that allow for easy transportability. And its lightweight makes it even easier to take it with you on the go.
As an added bonus, Singer include a measuring cup, pressing cushion and a spray bottle.
I recently went all-out and purchased this is model to go with my new Juki tl2010 quilting machine (which I LOVE) I have in my home and I am thrilled with it. It gets a good workout since I use it for both my crafting and household needs and it saves me a ton of time. The results have been exceptional. I can't see how anyone would be disappointed with this steam press and highly recommend it, even to those who just need a new clothes iron.
Pros:
Can cover a lot of surface area
Safe and easy to use
Steam like the pros
Best iron for quilting large pieces of fabric
Cons:
What to Look for When Buying a Quilting Iron
Quilters or seamstresses need the best iron for quilting to set seams and press out any creases or folds in fabric pieces before you cut into them. So, the features, power functions and performance points you'll be looking for will be quite different from someone who just needs one for clothing.
Steam Power
Ideally, you want an iron that delivers a strong, steady flow of steam pressure. If you prefer a starch alternative, you may not care for the steam settings. But for everyone else, you'll need to consider the consistency of the steam flow. A consistent steam flow provides the best results.
Iron Type
Some of you may raise an eyebrow at this point, but as you'll see shortly, there are different types of steam irons. Singer, for example, offers a steam press that is nothing like a traditional iron, but delivers the same results. It is much larger than a traditional steam model, but can press a much larger space at once. You can also find some very good cordless irons.
Your choices are essentially between working with a conventional steam iron, a cordless one or a steam press.
Sole Plates
If you work with fabric, you will want to choose either ceramic or stainless steel soleplate. Both of those types of sole plates glide the best on fabric. The ability to slide along smoothly without much effort is a must-have feature. Ceramic has the best gliding capabilities.
Heat Settings
Can you make adjustments to suit the fabric you're pressing? Some models, like the Singer one we mentioned just before, actually has digital temperature controls, so you can choose the best setting for your fabric. Others have settings for fabric types, so you never have to "guess" whether it is at the right temperature. Nearly all modern irons will have some sort of temperature setting.
Durability and Safety
Durability and safety are two other points to consider when looking for an iron. Obviously, you want a model that won't leak and spit everywhere when it's hot – ouch! A low quality iron may also cause a fire.
Weight
You want one with enough weight for you to handle it precisely while applying pressure on your fabric. You don't want something too heavy as it will apply too much pressure, but a heavy iron will save your wrists as you won't have to press very hard.
Controls
There are many different types of control styles that are used. From dials to switches, sliders or even some newer models offer digital controls. This choice really comes down to personal preference. Personally, I'm not keen on the digital ones as I feel it is one more thing that can break. However, that is just my opinion.
Final Note: Always, always use an ironing board.
Frequently Asked Questions
Which iron is better for quilting – steam or dry?
For sewing and quilting projects I prefer a steam iron because you can always use it without water, making it a dry iron. Also, steam irons get the wrinkles out of fabric much better than a dry iron.
Is an iron and a steamer the same thing?
Both are used to remove wrinkles from clothing or fabric, however they both have slightly different uses.
A steamer is much faster and is used on fabrics that are difficult to iron, like some of the softer fabrics. I wouldn't recommend using a steamer for clothing as they are very hard to use when trying to make a crease.
Can steam iron be used without water?
Definitely! I do this all the time. Simply remove the water from the iron. In most cases you will have a switch where you can even turn the steam off.
Why does my iron leak?
If your iron is leaking it usually means it isn't not enough. When the soleplate is hot, the water hits it and turns to steam. If the soleplate isn't hot enough, then the water just leaks out.
How do I clean my iron?
If you want your iron to last and work smoothly, it is important to clean it. This video shows you some easy steps to clean steam irons.
Does steam ironing my clothes clean them?
Yes it does! The intense heat from steam irons kills germs and bacteria as well as removing your wrinkles. It can also reduce or remove odors.
Should I iron my clothes inside out?
If you take close look at your clothes right after you iron them, you may notice a slight sheen or luster. This is caused by the heat of the soleplate on the fabric.
If this is something you don't want, it is best to press your clothes inside out.
What's the best type of water to use in an iron?
If you use regular water from your tap, after time you will notice a build-up inside your iron. This is because tap water contains minerals like calcium.
Using distilled water is your best option. Most directions recommend that you use 50% tap and 50% distilled water for best results and longevity.
Can I remove iron marks from clothing?
I find rubbing a bit of white vinegar on a clean cloth will remove an iron mark quickly. If you've melted or burned the fabric you are out of luck as there isn't a solution for that type of mark.
Conclusion
Investing in a good steam iron will make working with fabrics easier and safer. Thankfully, there are a lot of great models to choose from. We hope this post helped you find the best quilting iron for your needs.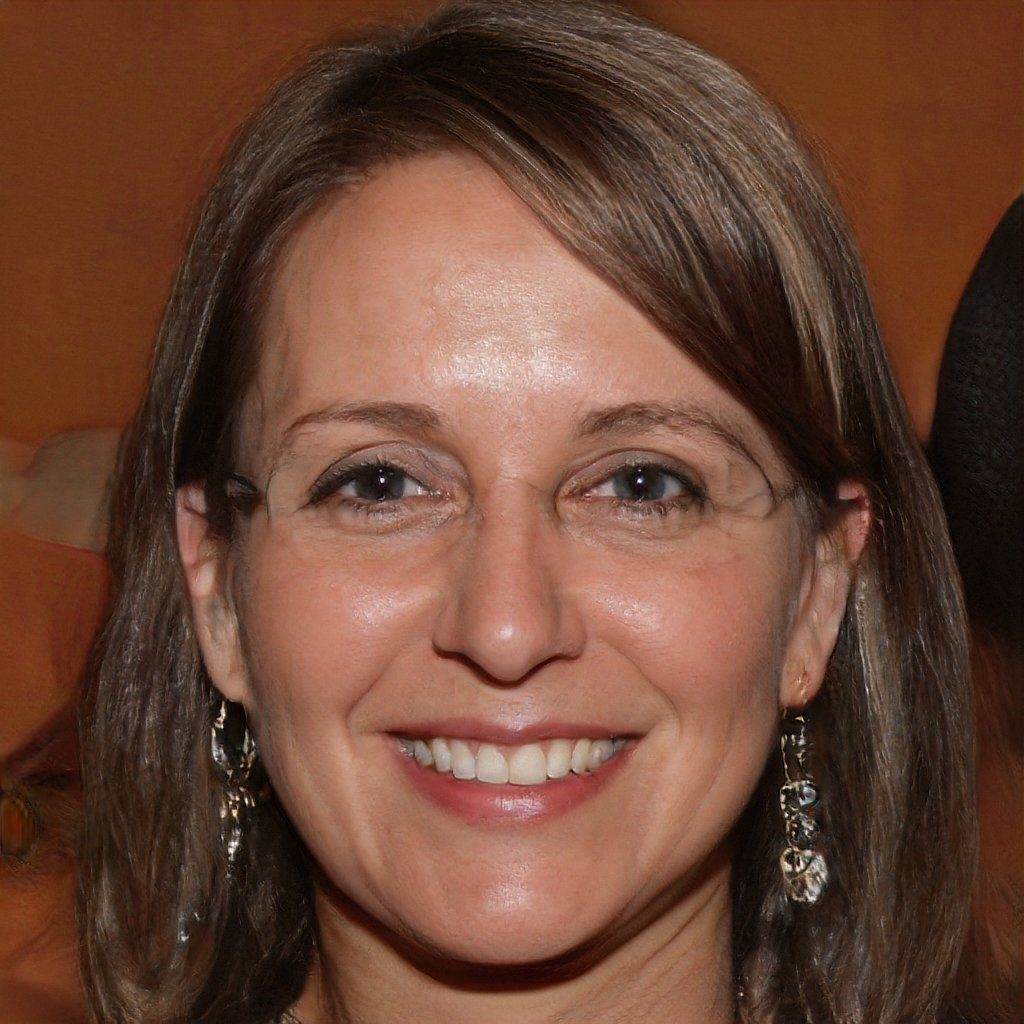 Hello and welcome to my website! My name is Shannon and I have been and avid quilter for over 25 years. My love of quilts came at an early age where I was taught by my grandmother when I was around 12 years old and her patience and love of quilting brought me to where I am today.