Imagine the satisfaction of creating professional-quality, neatly finished garments with ease. That dream can become a reality with the best serger sewing machine! In this comprehensive guide, we'll explore the best serger machines of 2023, delve into their features, and provide expert advice to help you choose the perfect serger for your needs.
Top Serger Sewing Machines for 2023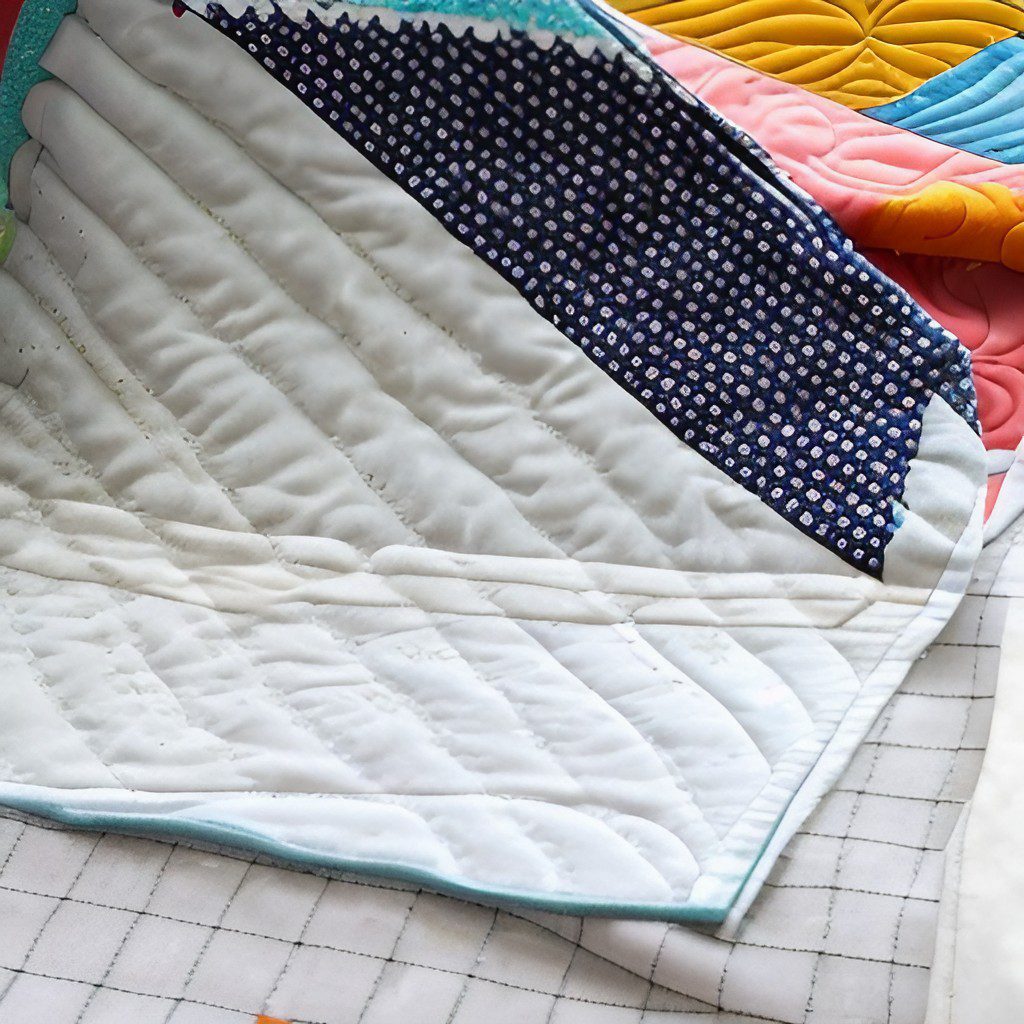 As you embark on your serger journey, you'll encounter a variety of serger sewing machines, each offering unique features and capabilities. Some of the best serger sewing machines for 2023 include:
These top-rated machines cater to various sewing needs and projects, delivering exceptional performance and results.
JUKI MO654DE Portable Serger
The JUKI MO654DE Portable Serger features:
Automatic rolled hem
Adjustable differential feed
Easy threading access
2-3-4 thread capability
Adjustable stitch length
Sewing speed of 1,500 stitches per minute
This powerful and compact machine is perfect for both beginners and seasoned sewers alike.
One of the standout features of this Juki serger is its color-coded thread guides, which simplifies the threading process for users. The machine's adjustable differential feed ensures smooth and consistent stitching, regardless of the fabric being used. Its compact size and portability make it an ideal choice for sewing enthusiasts who require a high-quality serger machine that can easily be transported between workspaces. I feel this is the best serger machine you can buy today.
Brother 1034D Serger
The Brother 1034D Serger is an affordable and reliable option for those just starting out with serging. It offers adjustable stitch length, differential fabric feed, and a stitching speed of up to 1300 stitches per minute. This brother serger is especially beginner-friendly, with its three- and four-thread options, rolled hems, flatlock stitches, and retractable knife feature to prevent accidental cutting of fabric when working near rolled hems.
Although the Brother 1034D is not suitable for intensive use with thicker fabrics, it's an excellent choice for beginners looking for an economical, reliable serger machine. This great machine comes equipped with a comprehensive selection of accessories, including:
Snap-on presser feet
An accessory bag
A softcover
An instructional DVD
Durable metal frame
This is a great all-round serger that we highly recommend for its high value and features.
Janome MOD-8933 Serger
The Janome MOD-8933. Serger offers user-friendly features that make it an excellent choice for sewers of all experience levels. Some of its key features include:
Wide open threading
Color-coded guide
Adjustable feed
25-year limited warranty
With these features, the Janome MOD-8933 Serger ensures a seamless sewing experience.
Its range of stitch options, compact design, and differential feed adjustment make the Janome serger a versatile and cost-effective option for those seeking professional-grade results. The differential feed adjustment on the MOD-8933 minimizes puckering or stretching when working with various fabrics, ensuring that your projects always look polished and professional.
Singer Professional 14T968DC Serger
For those seeking versatility, the Singer Professional 14T968DC Serger is an exceptional choice. This serger offers:
2, 3, 4, and 5 stitch options
Adjustable stitch variety
A color-coded system
Built-in rolled hems
Adjustable differential feed dogs
With the ability to produce a unique double chain stitch and a maximum sewing speed of 1,300 stitches per minute, this serger is perfect for serious sewing enthusiasts.
The Singer Professional 14T968DC comes with a range of presser feet for various sewing tasks, including:
Cording
Taping
Blindstitching
Shirring
Elastic
Hemming
Beading
Its automatic tension system and adjustable differential feed dogs ensure optimal sewing results, making it a popular choice among professional sewers and hobbyists alike.
Serger Machine Features Explained
To fully appreciate and utilize the capabilities of basic serger sewing machines, it's essential to understand their key features. Threading guides, tension systems, and adjustable stitch length and width are all crucial components that contribute to the optimal sewing results that serger machines can deliver.
Let's dive deeper into these features to better understand their role in serger machine performance.
Threading Guides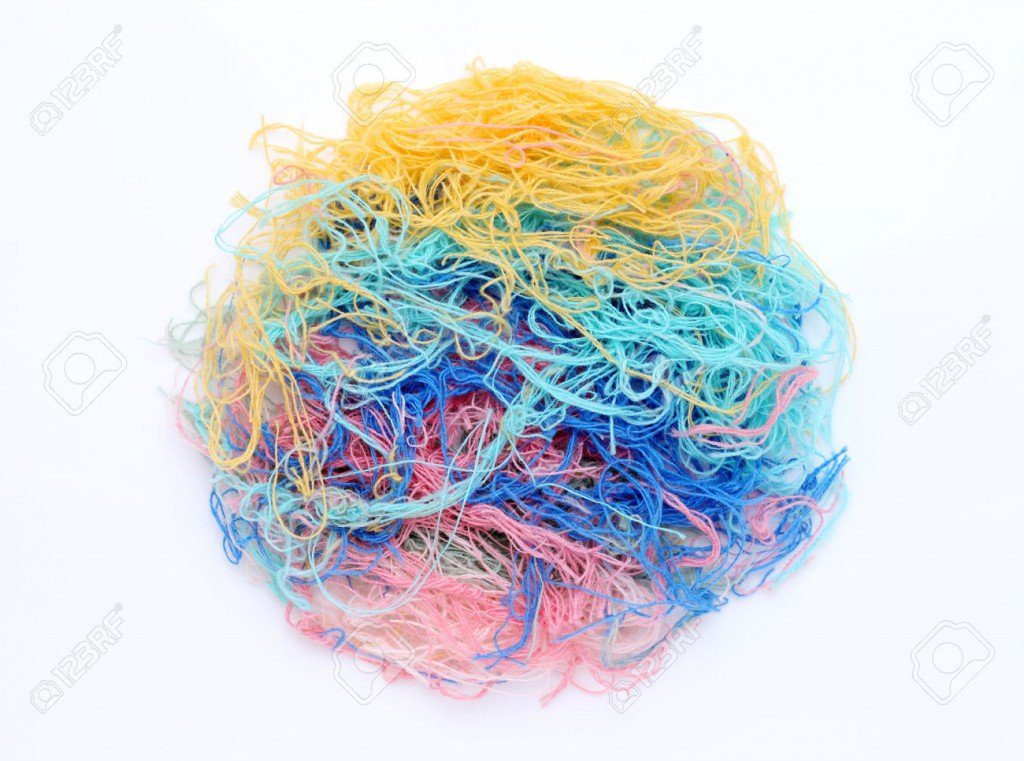 Threading guides are an integral feature of serger machines, as they assist users in the often intricate threading process. Especially for beginners, having a threading guide can help avoid confusion and frustration when setting up the machine.
Color-coded threading guides are a valuable tool for users of all experience levels. They:
Clearly mark thread paths
Make it much simpler to ensure that each thread is correctly positioned within the machine
Save time and reduce the likelihood of errors
Allow you to focus on creating beautiful, professional-quality projects.
Tension Systems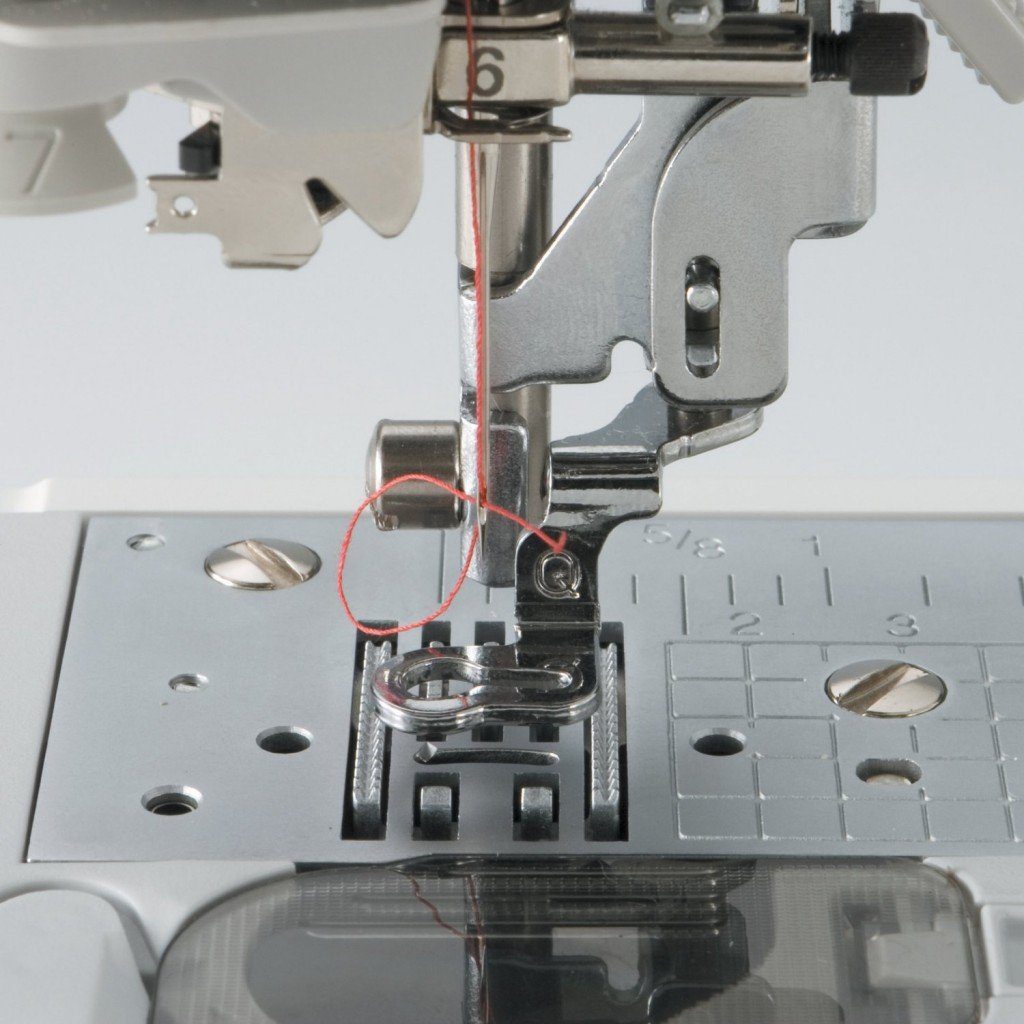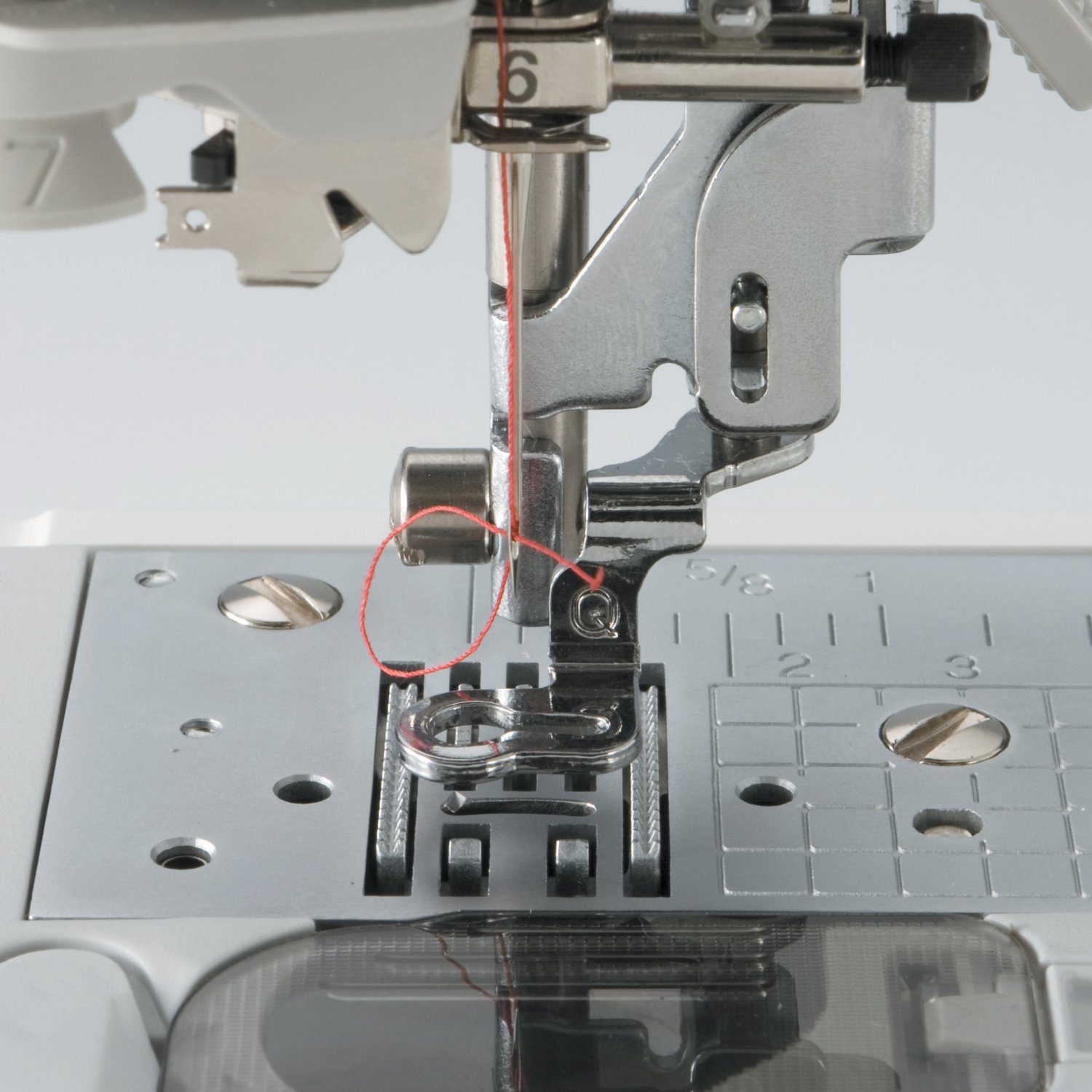 Tension systems play a vital role in achieving consistent and balanced stitches. Depending on the serger machine, tension systems can be either manual or automatic. Manual tension systems require the user to adjust the tension manually, while automatic tension systems adjust tension automatically based on the stitch selected.
A well-adjusted tension system ensures that the thread is pulled taut, providing a secure and even stitch. This is particularly important when working with stretchy or delicate fabrics, as improper tension can lead to puckering or uneven seams.
Understanding and correctly using the tension system on your serger machine can significantly enhance the quality and appearance of your sewing projects.
Stitch Length and Width

Adjustable stitch length and width are essential features of serger machines, as they allow users to customize their settings for different fabrics and projects. Stitch length refers to the interval between stitches, while stitch width determines the breadth of the stitch.
By manipulating the dials on your serger machine, you can easily adjust stitch length and width to achieve the desired outcome for your project. This level of control is particularly beneficial when working with different fabric types or creating various stitch styles, such as zigzag stitches or rolled hems.
Understanding and utilizing these adjustable settings can greatly improve the final result of your sewing projects.
Comparing Sergers and Traditional Sewing Machines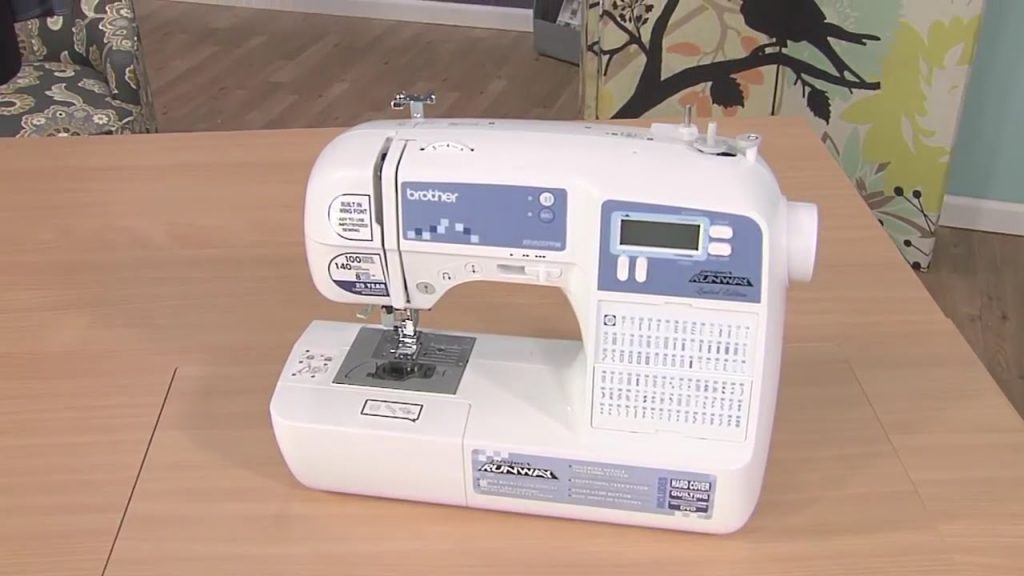 While sergers and traditional sewing machines may appear similar at first glance, they serve different purposes and offer unique advantages and limitations. When compared to traditional sewing machines, sergers provide faster sewing speeds, stronger seams, and better handling of stretchy fabrics. However, they cannot perform certain tasks like sewing zippers and buttonholes, which require a regular sewing machine.
Let's further explore these differences to better understand the capabilities and limitations of serger machines.
Advantages of Serger Machines
One of the main advantages of serger machines, also known as overlock machines, is their ability to produce professional-quality finishes on a wide range of projects. With their overlock stitches and faster sewing speeds, sergers can create polished hems, seams, and edges that are not achievable with traditional sewing machines.
In addition to their professional finishes, serger machines can handle multiple layers of fabric, making them ideal for sewing projects that involve thicker or more challenging materials. This capability, combined with their speed and efficiency, makes serger machines a valuable addition to any sewing enthusiast's toolkit.
Limitations of Serger Machines
Despite their many advantages, serger machines do have some limitations when compared to traditional sewing machines. For instance, sergers cannot sew zippers, buttonholes, or perform topstitching, which are tasks better suited for a regular sewing machine.
Additionally, an overlock machine may require specialized thread and can be more complex to thread and adjust than traditional sewing machines. As a result, they may not be the best choice for beginners or those who only need a sewing machine for basic tasks.
However, for those who frequently work with stretchy knit fabrics or require professional-quality finishes, especially when dealing with thick fabrics, a serger machine can be an invaluable asset.
Choosing the Right Serger Machine for Your Needs
Selecting the perfect serger machine for your needs involves considering several factors, such as your sewing experience, the purpose and frequency of use, and your budget and warranty preferences. By carefully evaluating these factors, you can make an informed decision and find the serger machine that's best suited to your specific needs and projects.
When shopping for a serger or overlock machine, it's important to consider the features that are available.
Sewing Experience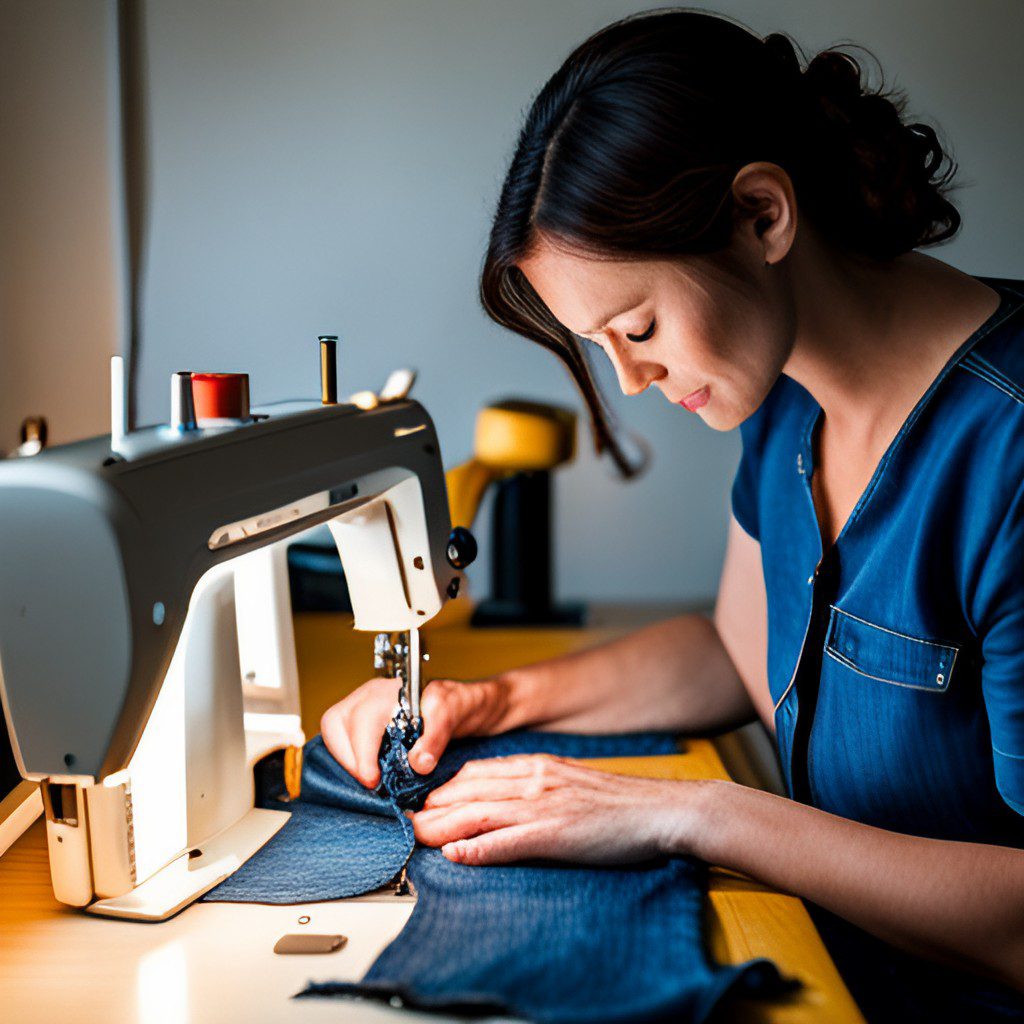 Your sewing experience plays a crucial role in choosing the right serger machine. Beginners may prefer serger machines that are easy to thread and operate, with features like color-coded threading guides and automatic tension systems.
On the other hand, more experienced sewers may seek out both a traditional sewing machine and serger machine with advanced features, such as adjustable stitch length and width, or a greater range of stitch options.
Ultimately, your sewing experience and comfort level with serger machines will help guide your decision and ensure you choose a machine that meets your skill level and project requirements.
Purpose and Frequency of Use
The purpose and frequency of use should also be considered when choosing a serger machine. If you plan to use your serger primarily for specific projects or fabrics, you'll want to select a machine that's well-suited for those tasks.
For example, if you frequently work with delicate fabrics, a serger with adjustable differential feed and rolled hem capabilities may be ideal. Conversely, if you only plan to use your serger occasionally or for basic sewing tasks, a more budget-friendly option with fewer advanced features might be sufficient.
Taking the time to assess your intended use for the serger will help you find a machine that meets your needs and expectations.
Budget and Warranty
Lastly, budget and warranty considerations play a significant role in choosing the right serger machine. Serger machines can range in price from $200 to $8000, depending on the model and features included.
Most serger machines offer limited warranties for various components and parts, which can provide peace of mind and protect your investment. Be sure to compare both the cost and warranty coverage of different serger machines to make an informed decision that aligns with your budget and preferences.
Tips for Using a Serger Sewing Machine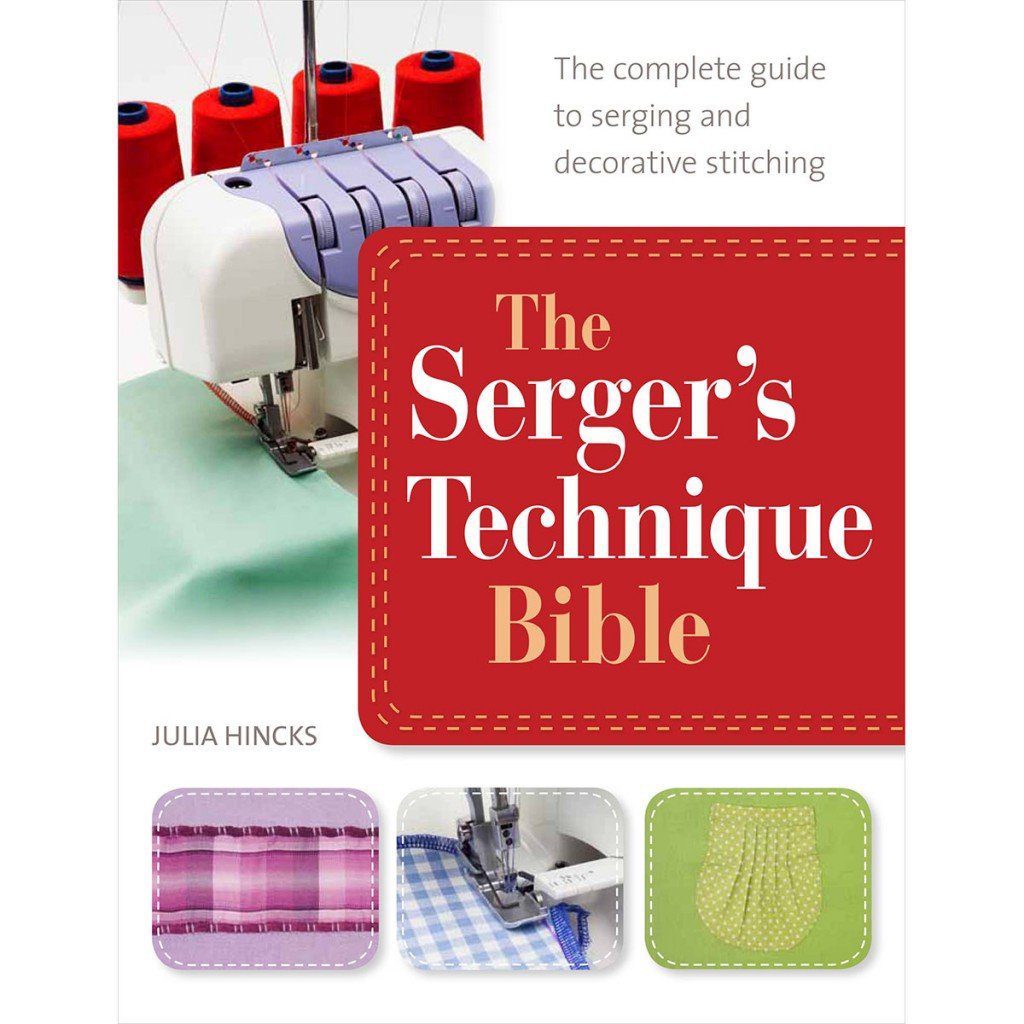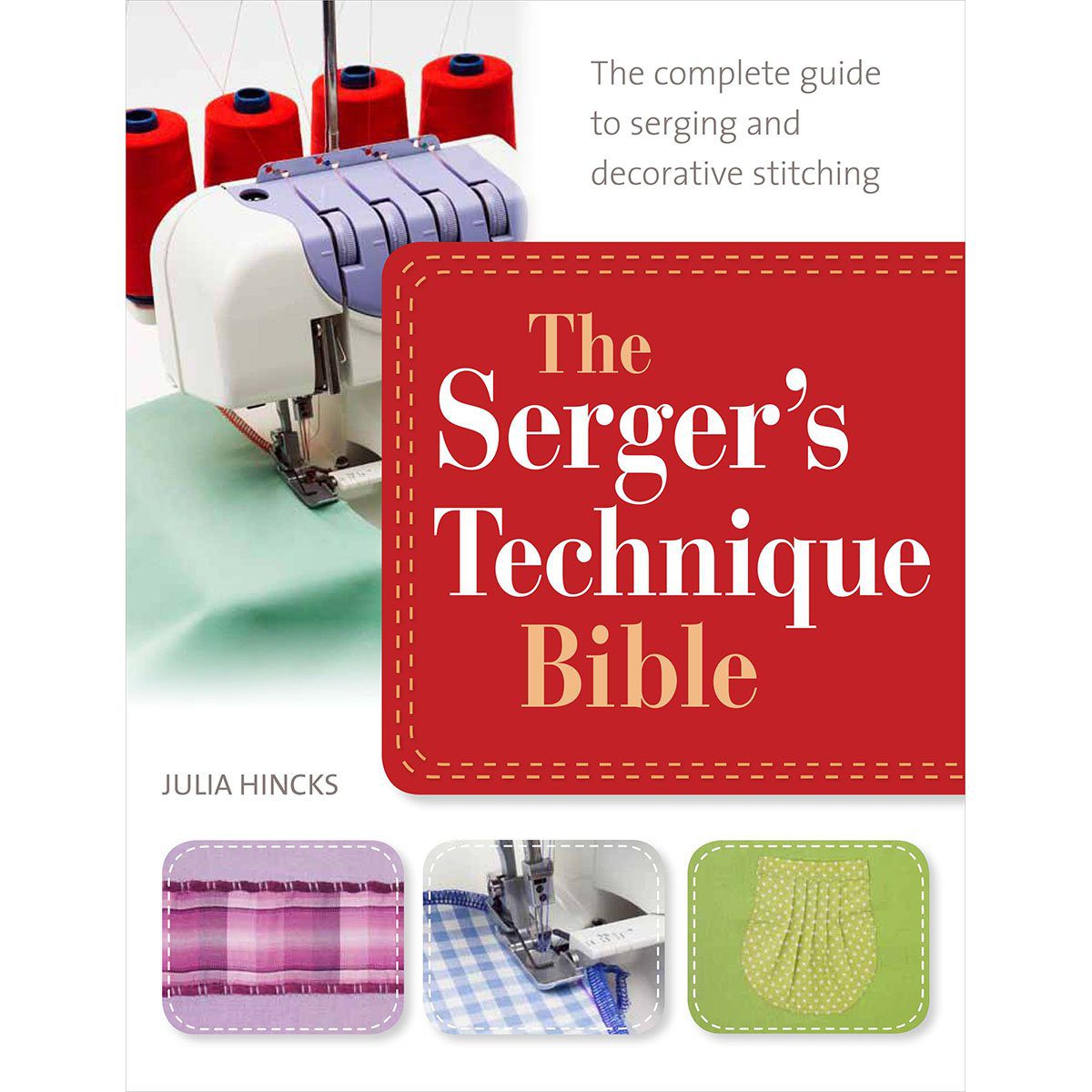 To get the most out of your serger sewing machine and ensure its longevity, it's essential to follow some basic tips and best practices. These include selecting the right thread, cleaning, and maintaining the machine.
Let's explore these tips in more detail to help you achieve optimal sewing results with your serger machine. If you are looking for more in-depth information you can start with The Serger's Technique Bible which is a great resource.
Thread Selection
The thread you choose for your serger machine can have a significant impact on the quality of your sewing projects. Serger thread is recommended, as it is finer than standard sewing thread to avoid bulkiness. Polyester is the most widely used type of serger thread due to its strength, durability, and flexibility.
When selecting thread for your serger machine, it's also important to consider the type of fabric and stitch you'll be using. Cones of thread are more cost-effective than spools and provide more even tension, leading to a more consistent stitch. By carefully selecting the right thread for your project, you can ensure the best possible sewing results.
Cleaning and Maintenance
Regular cleaning and maintenance of your serger machine are vital for optimal performance and longevity. Lint, dust, and debris can accumulate in the machine over time, potentially causing issues with tension, stitch quality, and overall functionality.
Using a brush or a vacuum cleaner attachment, gently clean the machine to remove lint and debris. Periodic oiling of the machine's moving parts can also help ensure smooth operation and reduce wear and tear.
By routinely cleaning and maintaining your serger machine, you can prevent issues and prolong its lifespan, ensuring that it remains a valuable asset in your sewing toolkit.
Summary
In conclusion, serger sewing machines offer numerous advantages over traditional sewing machines, providing professional-quality finishes, faster sewing speeds, and the ability to handle a variety of fabrics and projects. By carefully considering factors such as sewing experience, purpose and frequency of use, and budget and warranty preferences, you can choose the perfect serger machine to enhance your sewing capabilities and create beautifully finished garments with ease. Embrace the world of sewing and elevate your sewing projects to new heights!
Frequently Asked Questions
How much should you spend on a serger?
For a serger in the US, prices range from $200 to $8000 depending on features. Therefore, you should choose the right serger for your needs based on your budget.
Can I use a serger as a sewing machine?
Yes, you can use a serger as a sewing machine for some projects, but it cannot completely replace a regular sewing machine which is necessary for many tasks such as facings, zippers, topstitching, and buttonholes.
These tasks require a regular sewing machine because they require more precise stitching and control than a serger can provide.
What are the main advantages of serger machines over traditional sewing machines?
Serger machines offer professional-quality finishes, faster sewing speeds, and better versatility, making them an ideal choice for experienced sewers.
These machines are designed to quickly and easily finish seams, hems, and edges, allowing sewers to create professional-looking garments with ease. They are also capable of creating decorative stitches, making them a great choice.
What factors should be considered when choosing a serger machine?
When selecting a serger machine, consider factors such as sewing experience, purpose and frequency of use, budget and warranty preferences.
Think about how much experience you have with sewing and what type of projects you plan to use the machine for. Consider how often you plan to use the machine and what your budget is. Finally, look into the study.
Are there any limitations to using a serger machine?
Using a serger machine has limitations such as not being able to sew zippers, buttonholes or topstitching, making a regular sewing machine necessary for these tasks.
However, a serger machine can be used for a variety of tasks such as creating a professional finish on seams, creating rolled hems, and creating decorative edges.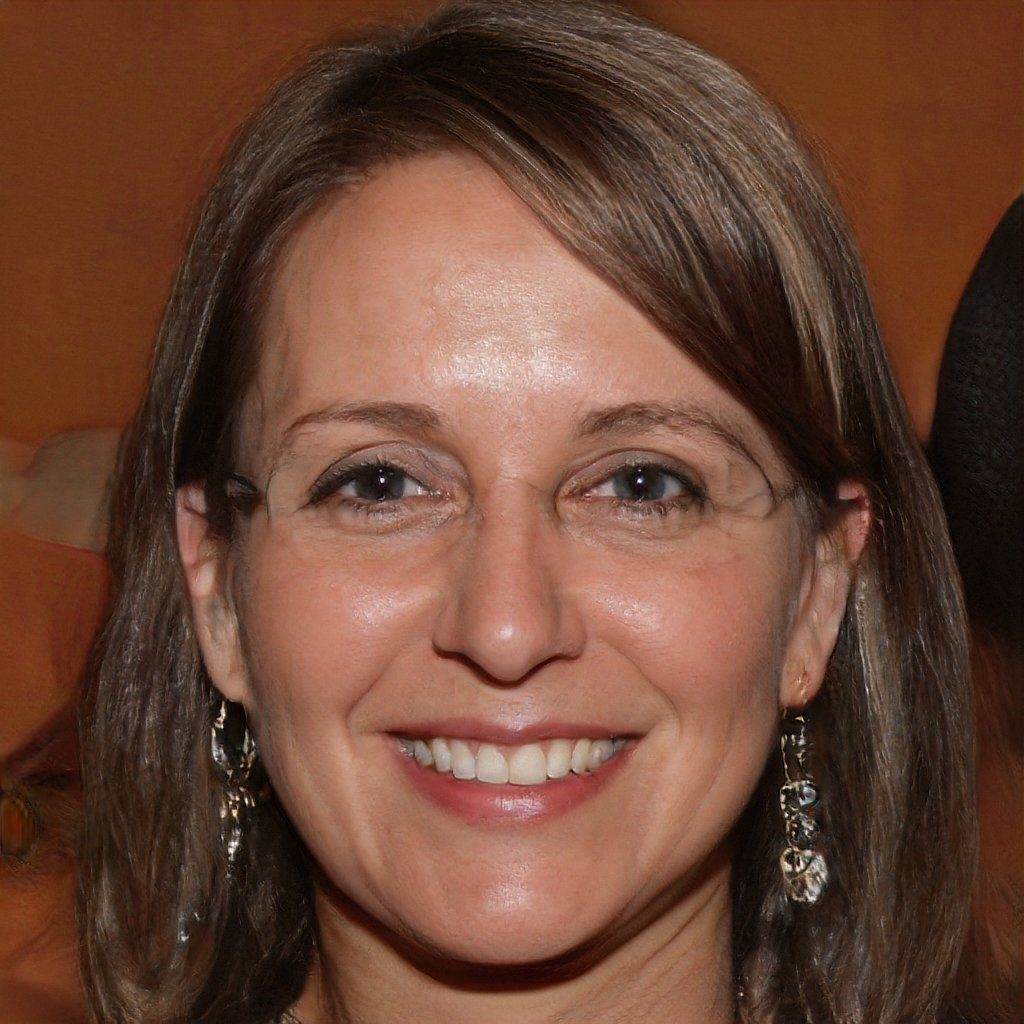 Hello and welcome to my website! My name is Shannon and I have been and avid quilter for over 25 years. My love of quilts came at an early age where I was taught by my grandmother when I was around 12 years old and her patience and love of quilting brought me to where I am today.