Imagine the joy of creating beautiful, heirloom-quality quilts with your very own hands. The right quilting machine can make all the difference in the world, turning a challenging task into an enjoyable and fulfilling experience. In this guide, we'll explore various quilting machines, from beginner-friendly to high-end models, and help you find the best sewing machine for quilting that perfectly matches your skill level and needs.
Key Takeaways
Find the best sewing machine for quilting in 2023, including options for beginners, intermediate and expert sewists.
Consider budget, skill level and test drive different machines when selecting a perfect quilting machine.
Benefits of purchasing from a sewing machine dealer include personalized assistance and after sales services.
Top Sewing Machines for Quilting Beginners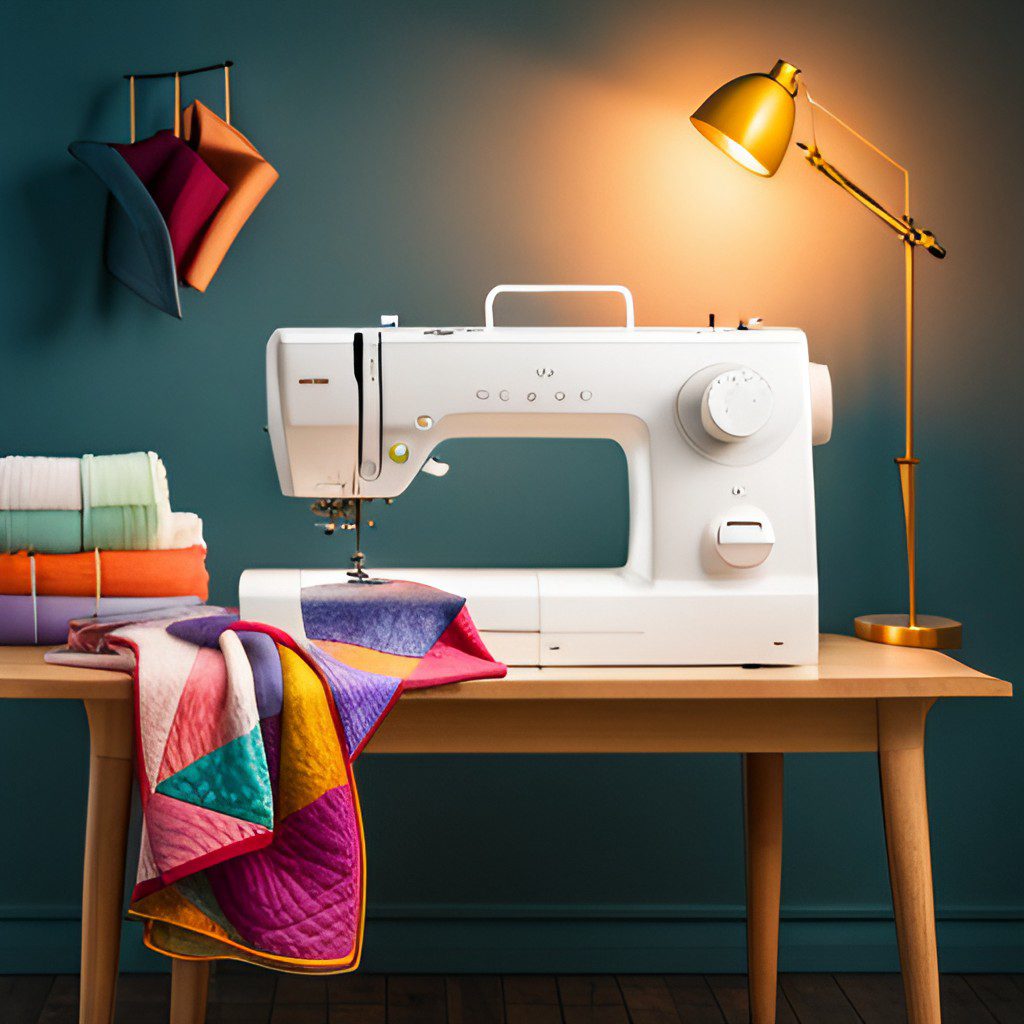 If you're stepping into the quilting world for the first time, starting with user-friendly and affordable machines can be a good approach. Three top sewing machines for quilting beginners include the Brother CS7000i, Brother XR3774, and Singer 9960. These machines offer a variety of helpful features, making it easy for beginners to dive into the world of quilting without feeling overwhelmed.
All these machines come equipped with a variety of features, making them suitable for quilting novices.
Brother CS7000i
The Brother CS7000i is an entry-level quilting machine that offers an impressive 70 built-in stitches, an automatic needle threader, and an LCD screen for easy viewing.
This machine, designed with beginners in mind, provides an excellent platform to sharpen your quilting skills and experiment with different stitch patterns and techniques. With its compact size and lightweight design, the Brother CS7000i is a great investment for those just starting out.
Brother XR3774
Another excellent option for beginners is the Brother XR3774 sewing machine. This regular sewing machine boasts 37 built-in stitches, an automatic needle threader, and a wide table for quilting projects, making it an ideal choice for those just starting out.
Its maximum sewing speed of 800 stitches per minute ensures that you can complete tasks quickly and efficiently.
Singer 9960
The Singer 9960 is a highly sought-after sewing machine, particularly for quilting purposes. This computerized sewing machine comes with a large attachable work table, a variety of built-in stitches, and a range of automated features to simplify the sewing process.
While it may not be as robust as some of the pricier models, the Singer 9960 is perfect for beginners looking to explore the world of quilting without breaking the bank.
Intermediate Quilting Sewing Machines
If you're a quilter with some experience, the best sewing machine for intermediate quilting sewing machines, such as the Brother PQ1500SL, JUKI TL-2000Qi, and Janome Memory Craft 6650, can provide advanced features to accommodate more intricate projects and designs.
These sewing machine for quilting options provide a good balance of versatility, power, and precision, ensuring that your quilting experience is both enjoyable and efficient.
Brother PQ1500SL
The Brother PQ1500SL is a high-speed quilting machine that offers a variety of features, such as an automatic thread cutter, an extension table, and a color-coded tension dial. With a sewing speed of 1500 stitches per minute, this machine is perfect for those looking to complete projects quickly without sacrificing quality.
One satisfied reviewer even mentioned purchasing a second unit after having their original for 10 years, attesting to the machine's reliability and performance.
JUKI TL-2000Qi
The JUKI TL-2000Qi quilting machine features:
Generous throat space
Automatic needle threader
Extension table
Crafted from aluminum die-casting for portability and durability
This mid-range machine offers superior stitching and is lightweight for easy transportation.
Its large work area of up to 23 inches and high sewing speed of 1500 stitches per minute make the JUKI TL-2000Qi an excellent choice for intermediate quilters looking to tackle larger projects with ease.
Janome Memory Craft 6650
The Janome Memory Craft 6650 is a versatile quilting machine that boasts 170 built-in stitches, an automatic thread cutter, and a large workspace for ease of use. This machine provides a wide range of features that cater to the needs of intermediate quilters, allowing for creative exploration and the ability to tackle complex designs.
With its 10.9 kg weight, the Janome Memory Craft 6650 is a sturdy and reliable option for those looking to invest in a high-quality quilting machine.
High-End Sewing Machines for Expert Quilters
Expert quilters seeking high-end machines might consider options like the Baby Lock Allegro and Juki Kirei HZL-NX7, known for their advanced technology and precision in intricate designs. These high-end machines provide an unparalleled quilting experience, allowing you to truly unleash your creativity and create stunning, professional-quality quilts with ease.
Whether you're a beginner or a seasoned quilter, these machines offer the perfect combination of both.
Baby Lock Allegro
The Baby Lock Allegro is a top-of-the-line quilting machine, boasting the following features:
Large throat space
Dual-feed presser foot
Free-motion foot
WiFi compatibility
"Smart hoops"
11.25" of throat space
These advanced capabilities and unparalleled performance make the Baby Lock Allegro a fantastic investment for expert quilters.
Click here for pricing for the Baby Lock Allegro
Juki Kirei HZL-NX7
The Juki Kirei HZL-NX7 is a high-end quilting machine that offers a range of advanced features, such as a large workspace, touch panel, and automatic needle threader.
With its built-in features, the Juki Kirei HZL-NX7 is perfect for expert quilters.
Built-in LED light for better visibility
Adjustable speed control for precise stitching
Wide range of stitch patterns for intricate designs
Provides a seamless quilting experience
Click here for pricing for the Juki Kirei HZL-NX7
Mechanical vs. Computerized Quilting Machines
When selecting the ideal quilting machine, one key consideration is deciding between a mechanical and a computerized machine. Both types have their own unique benefits and drawbacks, which we will explore in the following sections to help you determine which option best suits your needs and preferences.
Typically, mechanical quilting machines are more budget-friendly than their computerized counterparts, offering substantial value for the price.
Pros and Cons of Mechanical Machines
Mechanical machines, also known as mechanical machine systems, are often considered more basic and cost-effective compared to their computerized counterparts. They are straightforward to use, require minimal maintenance and adjustment, and have convenient thread tension settings.
Mechanical machines may not be suitable for intricate designs and advanced quilting techniques due to the lack of precision and advanced features. In comparison, computerized machines are more advantageous in this regard.
Pros and Cons of Computerized Machines
On the other hand, computerized machines offer advanced technology and precision for precise and intricate designs. Their enhanced accuracy and speed enable you to craft intricate designs effortlessly, making them ideal for more complex quilting projects.
However, computerized machines can be costlier and require routine maintenance, making them less ideal for those with a restricted budget or limited technical know-how.
Essential Quilting Machine Features
Regardless of whether you choose a mechanical or computerized quilting machine, there are a few essential features to keep in mind. Throat space, free motion sewing, and an automatic thread cutter are crucial for an efficient and enjoyable quilting experience.
Throat Space
Throat space refers to the area between the needle and the arm of the sewing machine. It is especially beneficial for quilting machines, as it provides additional room to accommodate larger projects.
Quilting projects often require space to maneuver. Models featuring throats measuring 8- to 9-inches long may be suitable for larger quilting projects.
Free Motion Sewing
Free motion sewing involves disengaging the feed dogs. This allows the sewist to control the direction and movement of the fabric as they stitch. This capability is highly important for quilting as it allows for free motion quilting and the creation of unique quilt patterns with ease.
Free motion quilting is a great way to add texture, dimension, and decorative stitches to a quilt.
Automatic Thread Cutter
An automatic thread cutter is a feature on some sewing machines that cuts the thread automatically at the end of a stitch. This feature facilitates a more efficient and enjoyable quilting experience by cutting threads seamlessly without any manual cutting.
Tips for Choosing the Perfect Quilting Machine
Choosing the ideal quilting machine involves setting a budget, evaluating your skill level, and trying out various machines.
Taking these factors into account can help you find the quilting machine that aligns best with your needs and preferences.
Establish Your Budget
Setting a budget is a vital step in discovering a cost-effective quilting machine that fulfills your needs. Quilting machines can range in price from under $200 for entry-level models to $1,500 and up for higher-end brands like BERNINA.
Longarm quilting machines may cost between $3,000 and $6,000. Ultimately, the budget you set will depend on your individual needs and preferences.
Assess Your Skill Level
Evaluating your skill level plays a critical role in selecting the most suitable quilting machine. Consider whether you are a beginner, intermediate, or expert quilter, and select a machine that offers the appropriate features and capabilities for your level of expertise.
For beginners, look for a machine that is easy to use and has a wide range of features.
Test Drive Different Machines
Lastly, it's advisable to test different machines in order to identify the one that fits your quilting needs and preferences the best. Visit a local sewing machine dealer or borrow a machine from a friend, and spend at least 30 minutes evaluating its capabilities.
During the test drive, assess factors such as ease of use, speed, and noise level to determine which machine is the best fit for you.
Benefits of Purchasing from a Sewing Machine Dealer
Acquiring a quilting machine from a sewing machine dealer brings multiple benefits such as personalized assistance, after-sales services, and a durable, quality investment.
By working with a dealer, you can ensure that you are making a well-informed decision and investing in a machine that will serve you well for years to come.
Quilting Accessories and Attachments
Investing in quilting accessories and attachments, such as a quilting foot, can enrich your quilting experience, make the process more efficient, and give free rein to your creativity. These can include specialized quilting feet, hoops, and additional work tables.
By investing in the right tools and equipment, you can make the most of your quilting machine and create beautiful, heirloom-quality quilts with ease.
Summary
In conclusion, finding the perfect quilting machine is an essential step in your quilting journey. Whether you are a beginner, intermediate, or expert quilter, investing in a machine with the right features, capabilities, and accessories will allow you to create stunning, heirloom-quality quilts with ease. Remember to establish your budget, assess your skill level, and test drive different machines to find the perfect match for your needs and preferences. Happy quilting!
Frequently Asked Questions
What machine do most quilters use?
Most quilters use a machine such as the Juki HZL-F600 Computerized, Brother PQ1500SL, Singer 9960, Brother XR3774, Brother HC1850, Juki TL-2000Qi or Janome MC6650.
What is different about a quilting sewing machine?
Quilting sewing machines have specialized features such as a larger workspace, extension tables and higher speed options to help you work with multiple layers to create a machine quilt through free motion or straight line quilting.
These features make it easier to create intricate quilting designs with precision and accuracy. The larger workspace allows you to work with multiple layers of fabric and batting, while the extension tables provide extra support for larger projects. The higher speed options help you quickly and accurately stitch through multiple layers of fabric.
What features should I look for in a sewing machine for quilting?
When looking for a sewing machine for quilting, look out for features such as a dual feed, quarter-inch foot and walking foot.
For more intricate projects, consider getting specialty stitches, buttonholes and a freehand system to raise and lower the foot.
What is the difference between mechanical and computerized quilting machines?
Mechanical quilting machines are more cost-effective than computerized ones, but lack advanced features and precision, while computerized machines offer higher accuracy and a range of intricate design possibilities at a greater expense and with regular maintenance requirements.
Computerized machines are more expensive, but offer greater accuracy and a range of intricate design possibilities. They also require regular maintenance. Mechanical quilting machines are more cost-effective but lack advanced features and precision.
How can I find the best quilting machine for my skill level?
Identify your skill level and select a quilting machine with features suitable for that level.
This will help you find the best machine for your needs.