What's your least favorite part of the quilting process? If you're like me – and many other quilters – you probably answered: cutting. Cutting fabric by hand can be tedious and time-consuming. By the time you're done measuring and cutting your multiple shapes, your arms and back are in pain.
An electric rotary cutter will save you time – and pain. If you're suffering with arthritis or chronic pain, electric cutters will help you enjoy quilting once again.
What's the best electric fabric cutter? We're going to share four of our favorite models.
The Hercules HRK-100 is an electric rotary cutter that saves you time while giving you more control. There are multiple speeds to choose from, and the 4" octagonal blade has a built-in sharpening stone.
The HRK-100 can cut through multiple layers of material like a knife through butter. Whether you want to cut denim, cotton, leather, synthetics or even plastic, the HRK-100 can get the job done.
The unit is comfortable to hold, but it's also lightweight to minimize hand fatigue and strain. The 110-volt brushless servo motor allows you to choose between three speeds:
600 RPMs
900 RPMs
1200 RPMs
These three speeds allow you to adjust to your fabric type and the number of layers you're cutting through.
To ensure that you make the most accurate cuts possible, the HRK-100 has an ultra-bright LED light so that you can see your guide-lines clearly.
If you're worried about fabric bunching or jamming, don't be. The octagonal rotary blade and the spring-loaded, carbide-tipped lower blade prevent fabric material from jamming.
Pros
Multiple speeds to choose from
Can cut through multiple layers of fabric
Built-in sharpening stone
Comfortable to hold
Lightweight
Jam-free design
Bright LED light to illuminate your cutting path
Cons
The only real drawback with the HRK-100 is that the cord is a bit on the short side. This can be a pain if you don't have a plug near your workstation.
Aside from this minor issue, the Hercules HRK-100 is an excellent electric fabric cutter that's both powerful and easy to use.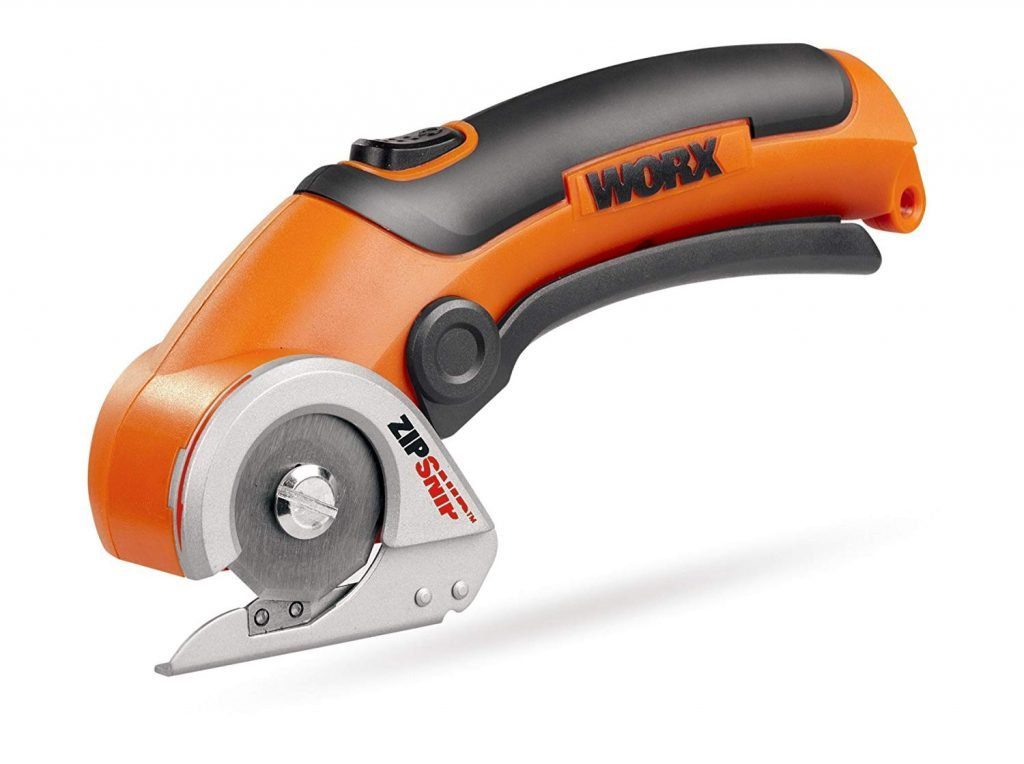 WORX is a popular and respected power tool company. Their WX081L ZipSnip model isn't designed exclusively for fabric cutting, but it can easily cut through just about any fabric you throw at it.
The great thing about this model is that it's cordless. This gives you the freedom to cut anywhere you please. The Lithium-Ion battery holds a charge for months, so you don't have to worry about having to recharge after every use.
The self-sharpening blade ensures that all cuts are precise – every time. There's also a lock-out switch for added safety, which works with the trigger so that you don't injure yourself or damage your materials.
The ZipSnip is so lightweight (about 1lb.), and the soft grip handle allows for maximum comfort. It can handle both delicate and rugged materials, including rubber, plastic, cardboard and wrapping paper. Of course, it can also cut through fabric with ease.
Although not a traditional fabric cutter, the ZipSnip is powerful enough to get your quilt cutting job done. And you can also use it for other cutting jobs around the house. ZipSnip offers great value for the money because it's such a versatile tool.
Pros
Portable
Cordless
Self-sharpening blade
Lock-out switch for added safety
Can cut through a wide range of materials
Cons
Not designed exclusively for fabric
If you want a cutter that's designed exclusively for cutting fabric, the ZipSnip may not be the best option. But if you want a versatile tool that can cut through fabric just as efficiently as other fabric tools, the ZipSnip is a great choice.
Allstar As-100k Mini Electric Fabric Cutter
The Allstar As-100k is a mini fabric cutter with a built-in sharpener and safety features. We love the portability of this cutter. It's small enough to fit in your sewing bag, but it's still powerful enough to cut through multiple layers of fabric (up to 3/8" thick).
Weighing just two pounds, this is a cutter that you can truly take anywhere.
The As-100k has a built-in finger guard as well as a push button blade sharpener to help maintain the blade. With a high-speed blade rotation, this unit can cut through even the flimsiest of fabrics with ease.
The squeeze-type switch and ergonomic grip allow for easy operation.
The As-100k comes with an extra set of brushes as well as a spare coupling and a replacement blade.
Pros
Portable
Lightweight and comfortable to hold
Can cut through multiple layers of fabric
Squeeze-style trigger is easy to use
Comes with a blade and finger guard for added safety and blade protection
Built-in sharpener to keep the blade in tip-top shape
Cons
Not ideal for heavy-duty cutting
The As-100k can cut through multiple fabric layers, but only up to 3/8" thick. That should be more than sufficient for most projects, but if you have a heavy-duty cutting job, you may have to do your cutting in batches.
If you want a portable electric fabric cutter, the Allstar As-100k is a great choice. The blade stays sharp thanks to the built-in guard and sharpener, and the tool itself is both portable and easy to use.
Best Manual Rotary Fabric Cutter For Quilting
These electric fabric cutting tools are super handy for cutting fabric quickly. However, sometimes it is just easier to use a manual hand rotary cutter than to pull out your electronic one. We review our favorite rotary cutters in the following post: Best Rotary Cutter for Fabric – Efficient and Effective Quilting and Sewing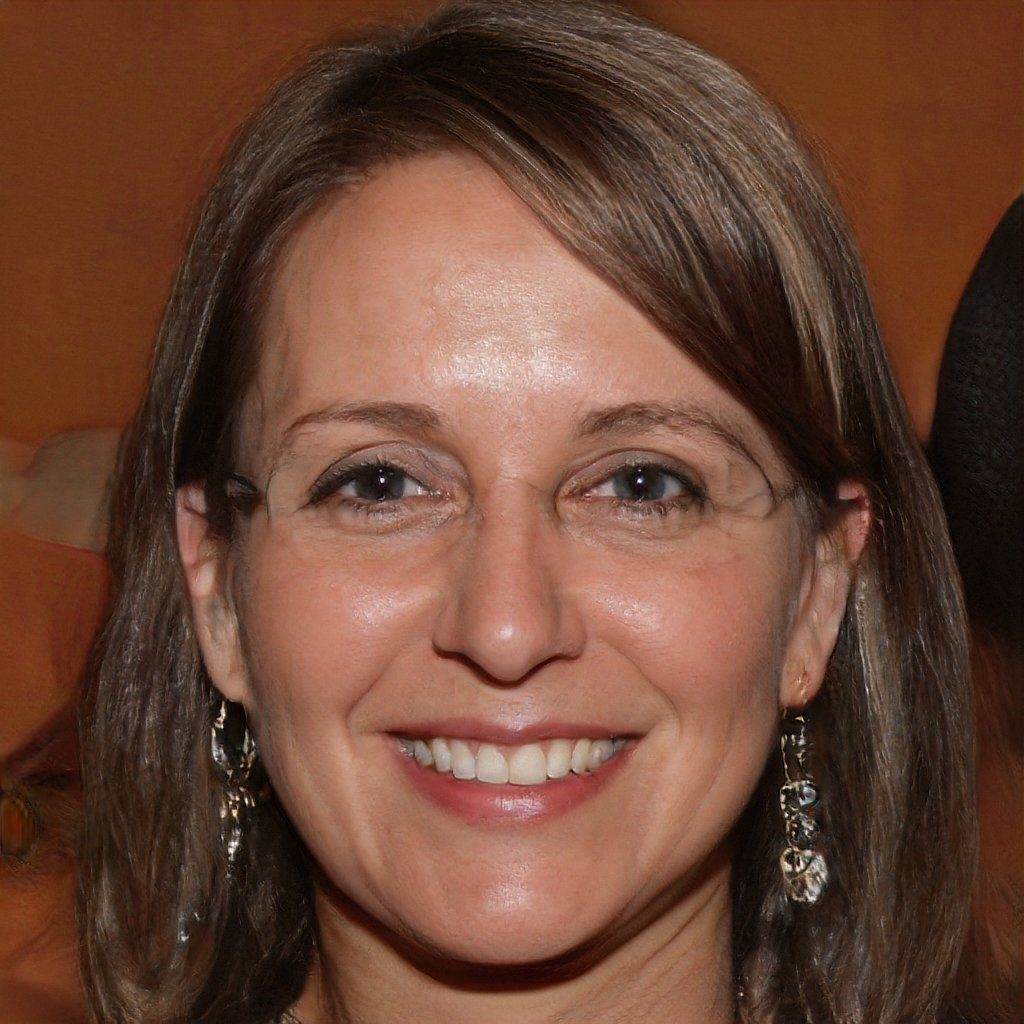 Hello and welcome to my website! My name is Shannon and I have been and avid quilter for over 25 years. My love of quilts came at an early age where I was taught by my grandmother when I was around 12 years old and her patience and love of quilting brought me to where I am today.