Like the Eversewn Sparrow 30, the Eversewn Sparrow 25 is a computerized sewing machine that can be used for projects of all skill levels, from beginners to professional projects. The Sparrow 25 is a feature-rich sewing machine that comes with a plethora of accessories to help you get started.
Let's take a quick glance at the features offered by this model before going deeper into our Eversewn Sparrow 25 review.
Features and Specs
197 stitch options
6-piece accessory quilting foot
10-pack of bobbins
LCD display
Drop-in hook system
Free arm
Maximum speed of 850 spm
Manual thread adjustment
8 buttonholes
Auto securing function
Sliding speed control
Ruler printed on machine
Sewing light
Thread cutter
Eversewn has created a feature-rich machine that is not only affordable, but it is one of the best computerized sewing machines on the market.
Eversewn Sparrow 25 Review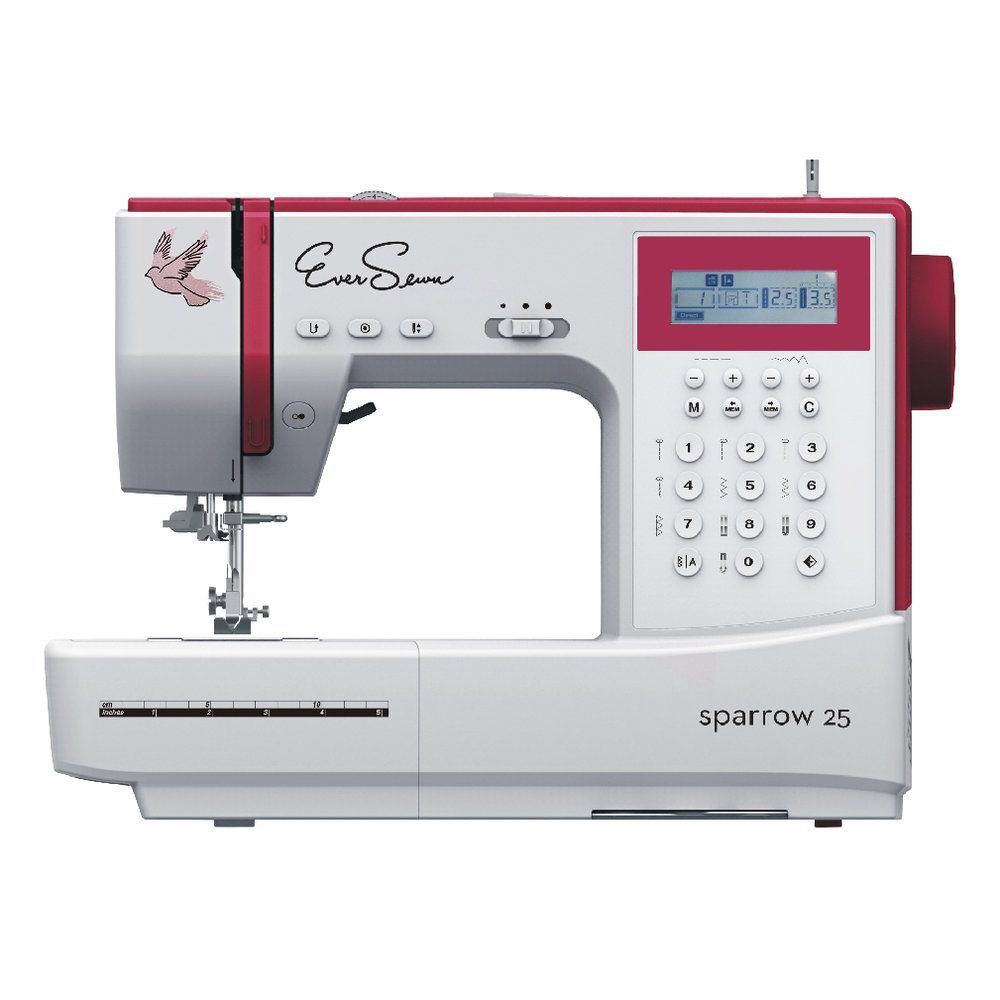 Initial Machine Setup
The initial machine setup is always a concern, and for beginners, it's difficult to get most sewing machines up and running. The threading process alone can be enough to make a person quit on the spot. The Eversewn Sparrow 25 offers an automatic threader.
And while the automatic threader makes it easy to thread the needle, there's a top-loading bobbin, which is difficult to get used to initially.
It's not a major issue after a few times threading the machine, but I do recommend that you read the manual a few times over to get accustomed to your machine. Anyone with a front-loading bobbin will need some time to get used to the top bobbin design.
There's also a:
Drop-in hook system
Drop feed-dogs
The initial setup is a breeze, and you'll find that Eversewn comes with:
10 pack of bobbins
6 quilting foot kit
7 presser feet
You'll also find that there's a dust cover, which you'll want to place over your machine when it's not in use. The dust cover will keep dust from getting into the internal components of the sewing machine.
Twin-needle capability is included.
Making Adjustments
The Sparrow 25 allows for quick and easy adjustments. When you want to switch through the many stitches (more on that in a minute), you'll find that you have access to an LCD display, with all of the stitch selection options available.
Stitch adjustments and selection can be done with the tap of a few buttons.
You can adjust stitch length and width with a touch of a few buttons, and there are 197 stitches, including:
1 alphabet stitch
7 buttonholes
1 eyelet stitch
58 decorative stitches
2 darning stitches
14 utility stitches
18 quilting stitches
Length can be adjusted up to 4.5mm. Width can be adjusted up to 7mm.
Stitch quality is one of the best features of the 25. All stitches are made tight and professionally, so you never have to worry about a garment coming undone.
When it comes to speeds, you can use an electric foot control to adjust the speed of your sewing to your liking. The pedal is sensitive, and all it takes is a tap of your foot to adjust the sewing speed.
But you also have the option of moving the slide speed control to one of the three settings to adjust the speed.
The slide control offers speeds up to 850 stitches per minute. You'll want to start with slow speeds for thicker material or risk breaking the needle in the process. But you can start using a faster speed if you're using thinner fabrics.
There's a knotting function, also a button away, and you can adjust the upper-thread tension with the twist of a tension button. Needle position can also be adjusted to stop at the up or down position.
When stopping the needle in the down position, this makes it easier to stop the needle, adjust the fabric and begin sewing. If you have to make corners or move in a different direction, you'll want to sew in the stop position.
If you're in low lighting, you can adjust the light on the side of the machine. The LED sewing light makes it easy to see what you're stitching at any time.
A start and stop button is available, and this button is responsible for setting the machine in motion without a pedal. There are reverse buttons and auto-lock buttons near the needle up and down button, too.
Fabrics can also be quickly measured with the ruler that is on the front left of the machine. This is a neat feature that is ideal when quilting or trying to follow complex projects.
You'll also find a pull-out stitch overview at the bottom right of the machine that shows all stitches at a glance.
When you need to cut your thread, there's a manual thread cutter, too.
Tubular fabrics, such as those that are required for cuffs and hems, are made easy thanks to the free-arm sewing option. This is a convenient feature that is easy to use and can also be used with thicker fabric when the right adjustments are made.
Memory Buttons
Memory buttons are also included on the unit, and these memory settings can be chosen with the arrow button, or they can be cleared with the tap of a button. You can press the "M" button to store a combination of stitches and settings.
Direct mode stitches will not be added into memory.
A mirror button is available, too, along with a mode selection button. Stitch mirroring will allow for a reflective pattern to be made until the mirror button is tapped again. Mirroring is a neat way to make fun, unique stitch patterns on your project.
Pros
Quiet design is perfect for smaller homes
Sews quickly and doesn't jam
Stitches are professional and strong
Cons
Top bobbin is difficult to get accustomed to at first
The only issue with this machine (and it's a sewing machine that is beautifully made) is that the top bobbin is difficult to thread. If you're used to threading other machines, you'll need some time to get accustomed to this model.
But aside from that, this is a near-perfect sewing machine.
It's feature-rich yet it's not overwhelming, so you'll be able to use this machine as a beginner or as an advanced seamstress. This is one of, if not the, best sewing machines for beginners. It provides users with so many different sewing options and features.
And you can opt to use the start/stop button or a foot pedal to sew with.
The Sparrow 25 offers versatility in your sewing, and it's a computerized sewing machine that can be used for any project, from quilting to making decorative items and garments.
Click here to view pricing and availability of the Eversewn Sparrow 25.
Quilting Machine Options
The Eversewn Sparrow 25 is a great machine, but might not be perfect if you are wanting to create quilts. If that is you, you should head over to our quilting machine reviews page where we highlight quilting machines that are suitable for all budgets.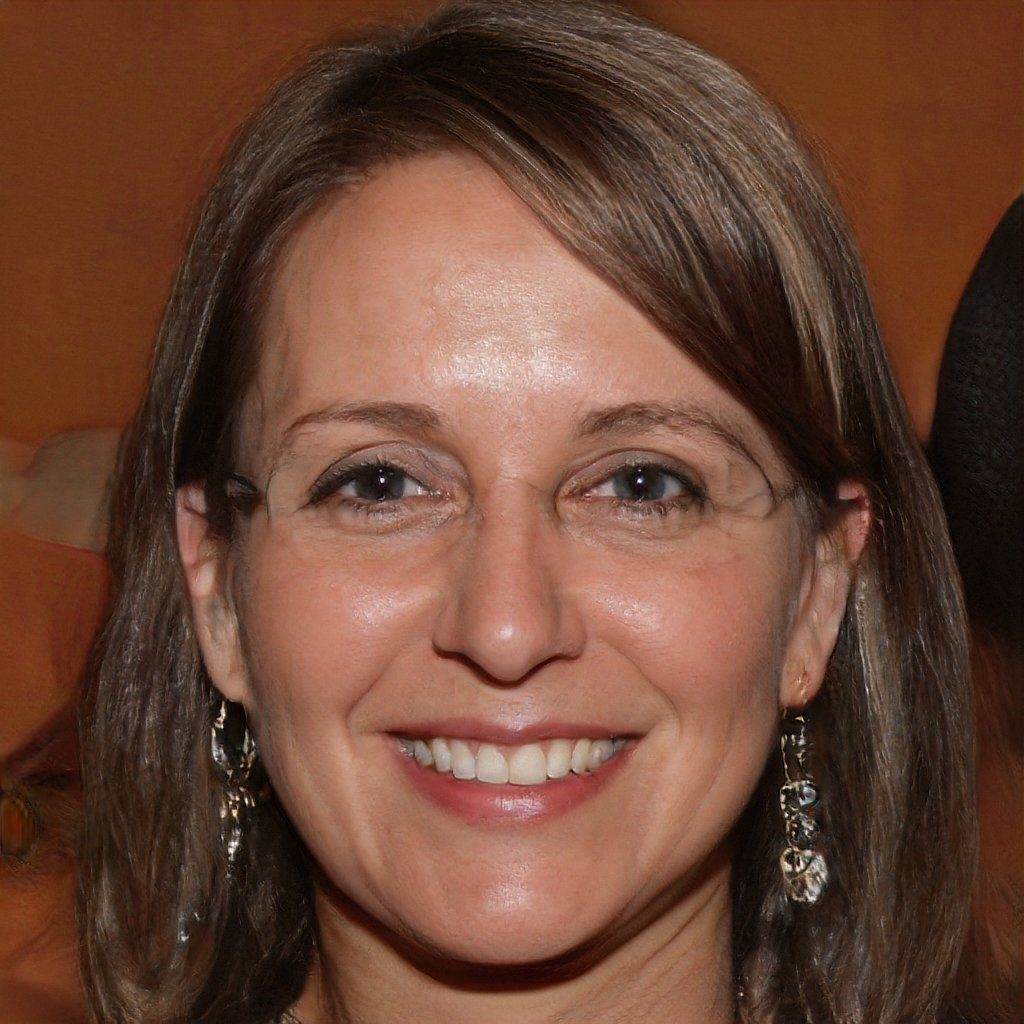 Hello and welcome to my website! My name is Shannon and I have been and avid quilter for over 25 years. My love of quilts came at an early age where I was taught by my grandmother when I was around 12 years old and her patience and love of quilting brought me to where I am today.