Rotary tools, x-acto knives and other cutting utensils quickly cut through mats leaving your furniture or table damaged in the process. The best cutting mats allow for safe cutting that protects the surface underneath while ensuring the mat isn't damaged in the process.
You never have to worry about your sewing, quilting or crafting projects causing long-lasting damage to your crafting table or furniture.
All you need is the right self-healing mat to protect the surface. These self-healing cutting mats have multiple layers, allowing the mat to heal while also protecting your rotary cutters or blade from damage in the process.
We've researched and reviewed five self-healing mats that offer the industry's best cutting mats for quilters. This is one item you will want to add to your quilting supplies if you don't already have one.
Crafty World Professional Rotary Cutting Mat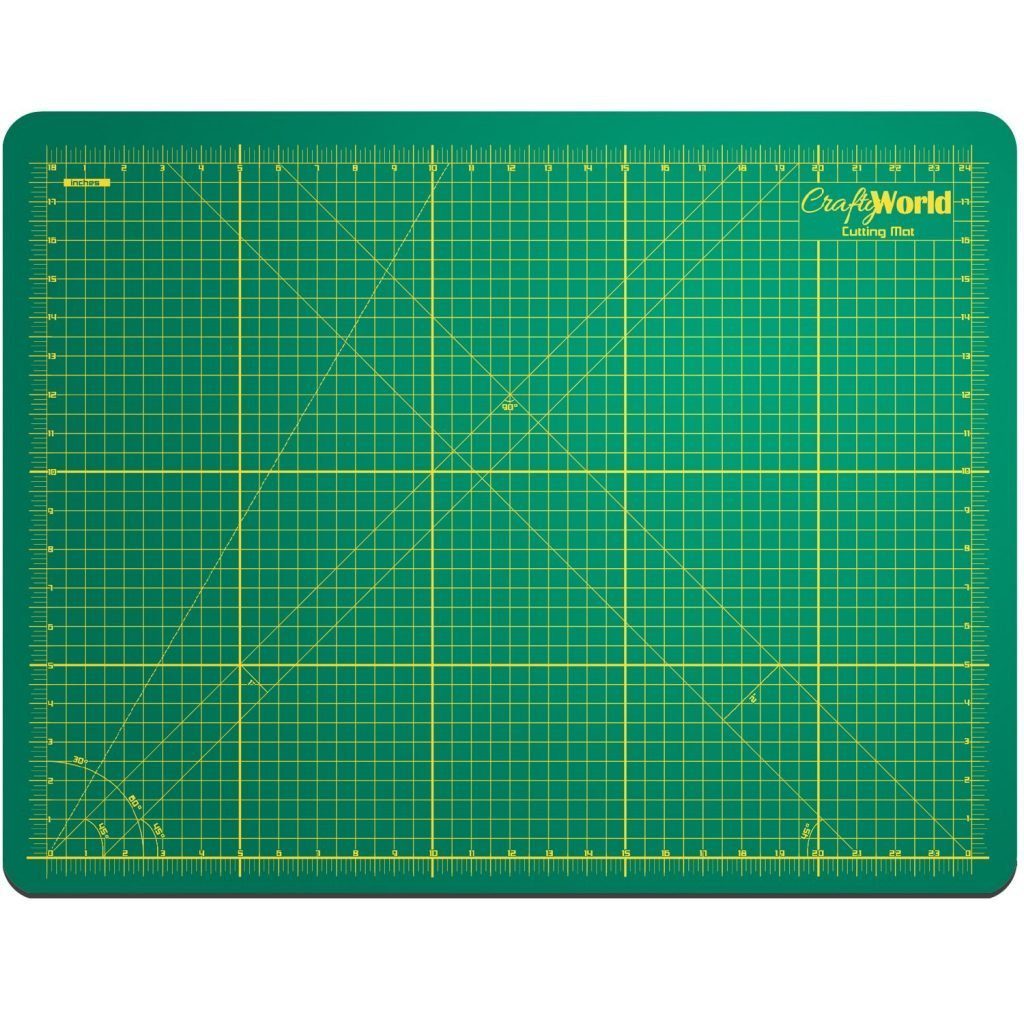 Often called the "best cutting mat," the Crafty World professional comes in a variety of size options:
9″ x 12″
12″ x 18″
18″ x 24″
Featuring green and blue color options, this is the best cutting mat for quilters, hobbyists and crafters. Versatile and flexible, you'll be able to use this mat for everything from quilting to sewing and model kit building.
The surface of the mat is smooth, and the mat has self healing capability to ensure it lasts 10 times longer than ordinary mats. Thick and double sided, the Crafty World mat is easy to use and accurate for cutting fabric for quilts.
Clear lines are available with 1/8 measurements.
Providing a 3mm thickness, the mat protects your work area and has a non-slip base to keep it firmly in place at all times. It's a mat that has the quality to last years without needing to be replaced.
If you need to protect your furniture and quilting tables while cutting material, Crafty World's mat is a great choice.
Click here to see what others are saying about this mat.
OLFA Self Healing Rotary Mat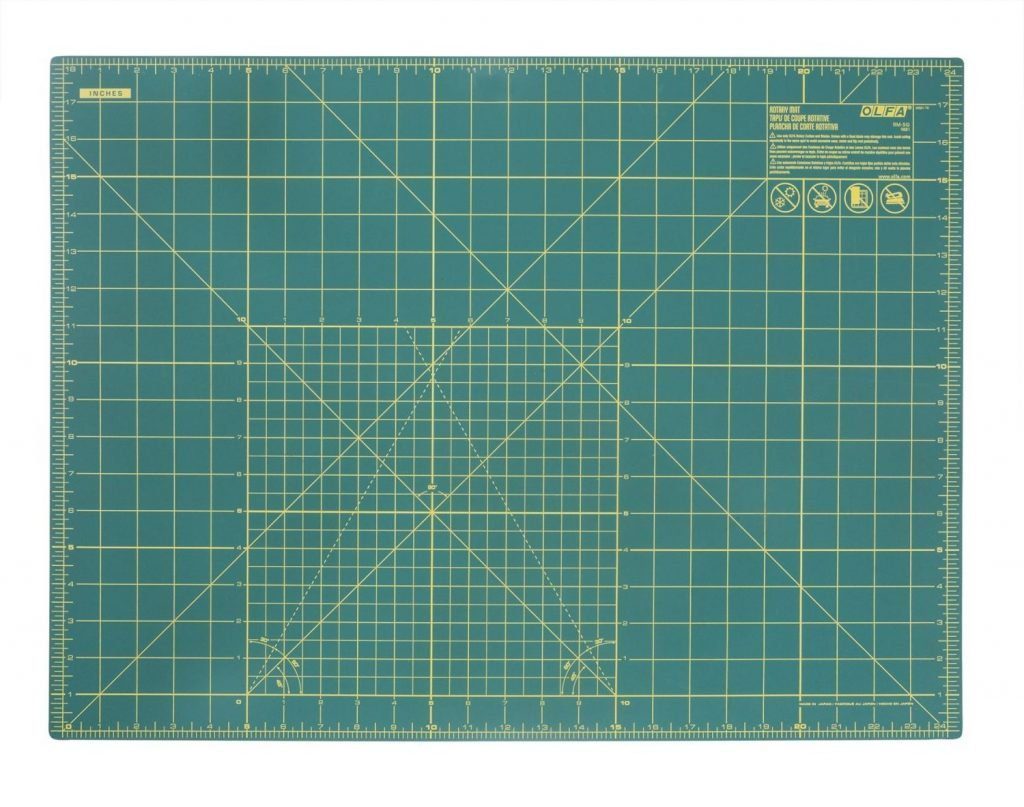 OLFA's fabric cutting mat has a thickness of 1.5mm, so it's thinner than the last model we reviewed, but it's still a 24″ x 36″ self healing mat that's great at cutting quilt fabrics and rotary cutters. The mat has one side that's solid green and another side that comes printed with grid lines with inch markings on each side for detailed cutting.
The self healing technology reseals the surface of the mat if cuts occur.
Offering a smooth surface, the OLFA double-sided mat can handle all cutting projects. The manufacturer warns that this mat should not be used with fixed-blade knives, so keep this in mind when making your purchase. Rotary tools and blades are what work best with the OLFA mat.
Angle markers are present to provide easy angling for any project.
A gum eraser can also help remove any particles that get stuck in the mat. You can use this mat for general crafting, rotary cutters, sewing, cutting fabric patterns, quilting and even scrapbooking projects.
Olfa is known for their self-healing cutting mats and this double-sided model is no different.
Click here to see what others are saying about this self healing mat.
US Art Supply, Self Healing Cutting Mat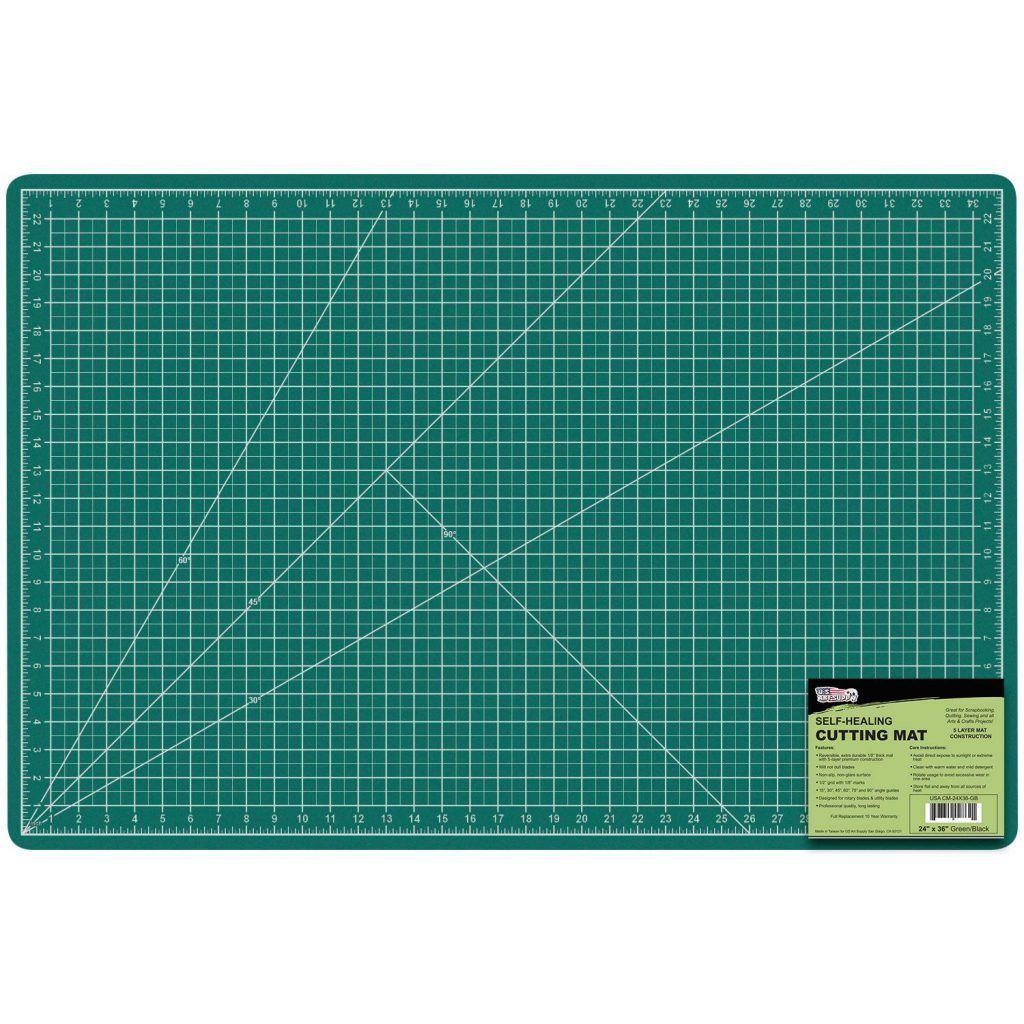 US Art Supply offers another self healing mat that is very similar to the first mat we reviewed, but this model comes in a pink and blue color option. Sizing is 18″ x 24″, and there's a 5-ply construction that comes with 1/2 inch grid, 1/8″ marks for precision cutting and 45-degree and 60-degree guides.
Reversible, one side of the mat is pink and the other blue. Each side has grid markings. The grid is perfect for paper sizing.
Lines are available to make cutting diagonals a breeze. You'll be able to use the US Art Supply mat to protect your surfaces from:
Art tools
Craft tools
Sharp blades
Fabric cutting tools
Writing instruments
Offering a thickness of 3mm, this mat is resilient, offering self healing to allow repeated use and the utmost in longevity. There are also green and black mats available for users that don't prefer the blue and pink option.
Click here to see what others are saying about this cutting mat.
Dahle Vantage 5-layer Healing Mat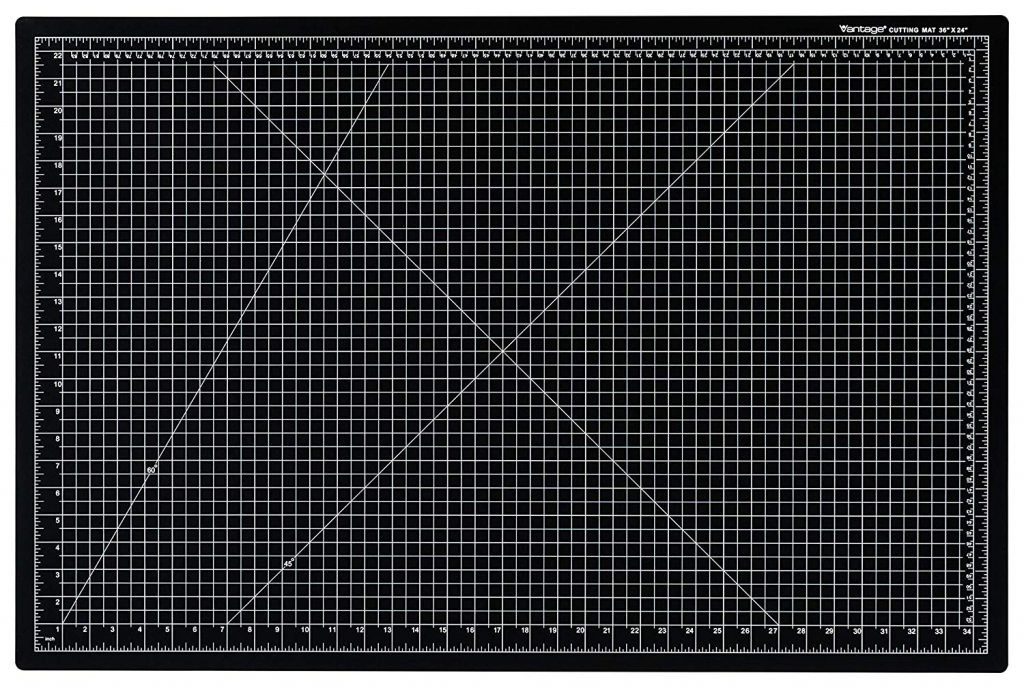 Dahle's Vantage 10672 is a self healing mat that has five layers that provide maximum healing potential. Ideal for everything including fabric, sewing and crafts to cropping, the Vantage comes in three color options:
You'll also find a range of size options if the 18″ x 24″ model isn't preferred. Additional options include:
9″ x 12″
12″ x 18″
24″ x 36″
36″ x 48″
All mats feature a 3mm thickness to protect your work surface from being damaged. The mat also has a preprinted 1/2″ grid to allow easy paper sizing.
Maximum healing is provided by the 5-layer PVC construction. And PVC also protects all of your blades from becoming dull and damaged. There's a limited warranty, so if your mat doesn't meet your expectations, you can return or replace the mat.
Click here to see what others are saying about this self mat.
US Art Supply, Self Healing 5-ply Cutting Mat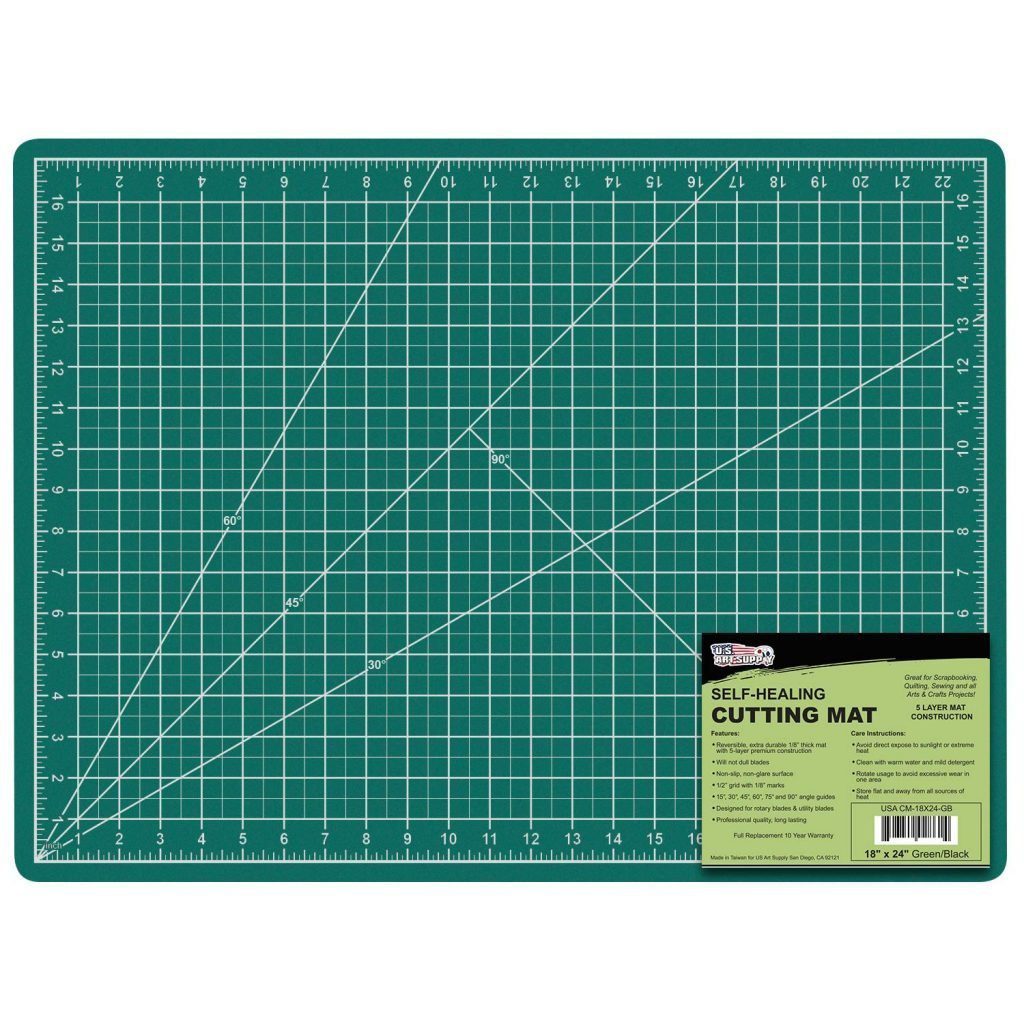 US Art Supply's self healing cutting mat spans 36″ x 48″ with a green and black design. Offering a 5-ply, self healing construction, the mat has a 1/2 inch grid with precise alignment thanks to the 1/8″ marks.
There are 45-degree and 60-degree guides available.
Reversible, there are markings on each side to provide you with precision measuring on the green or black side of the mat. Diagonals are also made easy thanks to the imprinted lines. When choosing US Art Supply's mat, you're choosing a mat that's able to protect the top of your table from damage originating from:
Art tools
Craft tools
Sharp blades
Writing instruments
Offering an extreme-build and high-end quality, you can use a variety of tools on this mat, including a rotary cutter, utility knife, leather cutters, wood carving blades, x-acto knives – the mat will hold up to them all.
Click here for more information on this mat
What Type of Cutting Mat Should I Buy?
| Model | Size | Buy Now |
| --- | --- | --- |
| Crafty World Professional | 18" x 24" | |
| Olfa Rotary Mat | 24" X 36" | |
| US Art Supply | 18" x 24" | |
| Dahle Vantage | 18" x 24" | |
| US Art Supply Cutting Mat | 24" x 36" | |
Cutting mats are essential when using rotary cutting tools when quilting or sewing. They protect your work surface while making it easier to cut through several layers of fabric at once.
When looking for cutting mats, you'll find that you have an overwhelming number of options. What's the best cutting mat for quilting or sewing? Let's weigh the options.
Plastic vs. Self-Healing
There are two primary types of mats for quilting: self-healing and plastic.
Self-Healing Mats
A self-healing rotary cutting mat is arguably the most popular type of quilters cutting mat. The word "self-healing" makes these mats sound like they have some sort of magical property, but they don't. Technically, the scratches remain on the mat, but they appear to close back up because of the softness of the material.
Typically, self-healing mats have a hard plastic core surrounded by layers of other plastic materials. The top and bottom surface layers are usually made up of vinyl. It's this vinyl material that gives these mats their "self-healing" properties. Once the blade is removed from the cut, the vinyl layer appears to "heal" itself.
Self-healing mats come in a variety of thicknesses. The thicker the material, the longer-lasting the mat.
Solid Plastic Mats
Is it better to use a solid plastic cutting mat for quilting? Many quilters consider this type of mat to be a step up from self-healing mats.
These mats are usually made of solid polyethylene plastic.
Most quilters prefer to use self-healing mats because they tend to last longer and are economical in price.
Large vs. Small
Is it better to use a large or small cutting mat? It depends on the project and your needs. Many quilters have a collection of cutting mats that they cycle through – both large and small.
Large mats are ideal for cutting long border strips, while smaller sizes are more portable and ideal for cutting patches or applique cuts.
If you're new to quilting mats, an 18" x 24" size is a good place to start. This size will work with most projects, and will accommodate a standard folding width of 45" fabric.
Other common sizes include: 5" x 5," 6" x 8," 12" x 12," 12" x 18," 12" x 24," and 24" x 36." These mats are all portable and great for most projects.
You can also buy even bigger cutting mats that will cover your entire tabletop: 24" x 70," 35" x 70," and 40" x 70."
Of course, you can also find other sizes, depending on the brand. Most quilters will buy new mat sizes when the need arises, but you can also buy packs of quilting cutting mats if you'd like to have a few to get started.
Tips When Using Your Cutting Mat For Quilting
Cutting fabric may seem like an obvious task, but there are tips and tricks that can make your cutting go more smoothly and improve your precision.
Work on the Right Type of Surface
When cutting fabric for sewing or for your quilt, work on a hard, flat, solid surface. Regardless of whether you're using a self-healing or plastic mat, you must work on a hard cutting surface. If you try to cut fabric on a soft surface, like carpet flooring, your cuts won't be as accurate.
The height of the work surface is also important. Ideally, you should choose a counter height that is comfortable for you. Your cutting surface should be ergonomic so it does not strain your body while you work.
Stack Layers of the Same Type of Fabric
If you're stacking your fabrics to cut multiple layers at once, make sure that you choose the same type of quality fabric. Mixing different fabric types can make it difficult to get an accurate, thorough cut.
Some fabrics are thicker or coarser than others. When mixed together, it can be difficult to achieve a precise cut. So, try to stack like fabrics together when cutting multiple layers.
Replace Your Rotary Blade When You Notice Dullness
One big mistake that many quilters make is failing to replace their rotary blade when it becomes dull. A sharp blade will cut through fabric easily, allowing for precise, accurate cuts.
If you find that you have to put pressure on the cutting mat to work through the fabric, this is a sign that your blade has become dull.
Take care when replacing your blade to ensure that it's installed properly. You can test it out by rolling the blade up the mat. The blade should move smoothly and should not wobble.
Always be careful when installing and discarding rotary blades to prevent injuries.
Re-position Properly
Whenever necessary, turn your mat instead of turning your fabric. Try to move the fabric as little as possible. Repositioning the fabric increases the risk of inaccurate cuts.
If you move the mat instead, your cuts will be more consistent.
Replace Mats When Necessary
Even self-healing mats will wear out eventually. Most can withstand hundreds of cuts on both sides before having to be replaced.
If you want to extend the life of your cutting surface, make sure that you're rotating and flipping them often. Avoid cutting in the same place each time.
How do you know when it's time to get a new mat? When your cuts become inconsistent even after you've moved and rotated your mat.
If you've been consistently cutting in the same areas and you've created deep grooves in these areas, it may be time to replace your mat. Or, you can try rotating or flipping the mat before replacing it. But the grooves may be too deep to make the mat worth saving.
Store and Care for Your Mats Properly
Rotating and flipping your self-healing cutting mat often can help extend their lifespan. You can also take other steps to care for and maintain your cutting mats.
Make sure that you're storing your mats in a flat position. Never roll or bend your cutting mats. Always store them out of direct sunlight.
Also, try to avoid using and storing in extreme temperatures. Intense heat can cause your mat to melt or warp, while extreme cold can make your mat brittle and vulnerable to damage.
To clean your self-healing cutting mat, wash with lukewarm water with mild detergent. Never clean it with harsh chemicals.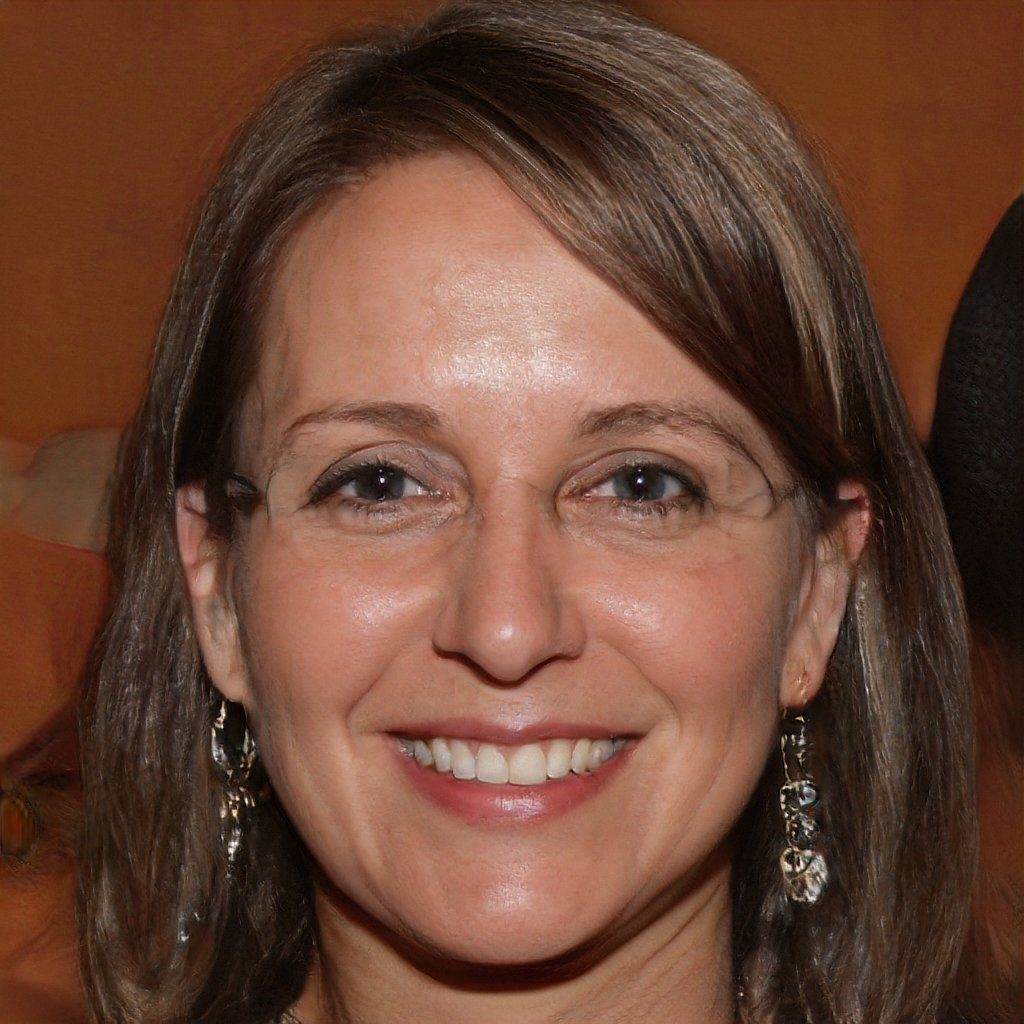 Hello and welcome to my website! My name is Shannon and I have been and avid quilter for over 25 years. My love of quilts came at an early age where I was taught by my grandmother when I was around 12 years old and her patience and love of quilting brought me to where I am today.