If you're just getting started, what you really need is a simple machine that's reliable and easy to use. A high-end Bernina may last you decades and offer more options that you'll ever need, but until you gain some experience and know for sure that you love it, investing in a more expensive computerized machine isn't a wise decision.
The question is: Which models are the best sewing machines for beginners? Continue below to find out…
While there are many different makes and models to choose from, we've selected the top four starter sewing machines based on price, performance and customer satisfaction. All of the models on this list are under $200 so they are affordable for most people who are just starting out. Let's begin…
Our Top Picks for 2020
Best Entry Level: Brother CS6000i Sewing Machine at Amazon
"Tons of features and super easy to use."
Runner-Up, Best Entry Level: Singer 7258 at Amazon
"Great machine, loaded with features."
Best Lightweight: Brother XM2701 at Amazon
"Inexpensive, lightweight machine with 27 stitches."
Best Budget: Janome 2212 at Amazon
"Affordable and reliable beginner sewing machine."
Best Heavy Duty: Singer 4423 at Amazon
"Perfect for those who work with thicker or multiple layers of fabric."
Best Compact: Brother XL-3750 at Amazon
"37 stitches, 7 sewing feet and a large work table."
| Model | # of Stitches | Computerized | Price | More Information |
| --- | --- | --- | --- | --- |
| Brother CS6000i | 60 | Yes | $$ | |
| Brother XM2701 | 27 | No | $$ | |
| Janome 2212 | 12 | No | $$ | |
| Janome Pink Sorbet | 15 | No | $ | |
| Brother XR3774 | 37 | No | $$ | |
| Singer Start 1304 | 6 | No | $ | |
The following beginner sewing machines have been tested and reviewed by our experts. We love the machines below and think any one of them would be an excellent choice for someone who is just starting out with sewing. On to the list…
1. Brother CS6000i Computerized Sewing Machine
If you want to invest in a high-end machine that is packed with features, the Brother CS6000i is the right choice. Unlike other machines on our list, this model is computerized. With more stitches than you'll ever need and 7 buttonhole styles, the CS6000i is versatile and packed with value.
Whether you enjoy making clothing, home décor items or quilting, the CS6000i can handle it all. If you are the creative type and are just starting out then you may want to seriously consider this model. Creative types might outgrow the simple and straight-forward models listed above. With the CS6000i, many more projects are available to you that you may be thankful for in the end.
This model comes with 60 built-in stitches, which includes:
20 garment stitches
20 decorative stitches
6 heirloom stitches
7 quilting stitches
6 buttonhole styles
That's more stitches that you'll ever need, and you can use this machine for virtually any project.
Many beginners are intimidated by computerized sewing machines because they can be difficult and overwhelming to use. The CS6000i is different. The LCD display is so easy to use. With the touch of a button, you can quickly and easily select your stitch. Your selection will be displayed on the screen, so you always know which stitch you're working with.
In addition, this model also allows you to adjust the stitch speed, so you can control how fast or slow you sew. This is a feature you will love as you can slow down the speed until you get used to your machine. I especially love this feature for kids. You'll be happy to know that with the convenient printed diagram on the machine, threading is a breeze. The needle threader is automatic, too, so you'll be up and running in no time.
If you like to quilt or sew larger projects, you'll appreciate the oversized table. The large table makes it easy to maneuver large pieces of fabric while you work. The built-in free arm allows for easy stitching of cuffs, pant legs and more.
The Brother CS6000i is the ideal choice for beginners who are looking to get the biggest bang for their buck. With a multitude of stitches, easy threading system, and oversized table, this computerized machine is the perfect choice for serious and advanced beginners.
In our opinion the Brother CS6000i is the best sewing machine for beginners in 2020. You can see our full review of this machine on this page.
2. Brother XM2701 Lightweight Sewing Machine
Lightweight, stylish and easy to use, the Brother XM2701 offers more stitch options than the previous model we reviewed and a host of convenient features.
Designed for ease of use and everyday projects, this is a machine that can tackle just about any project. It includes 27 built-in stitches, including zipper, decorative, blind hem, zigzag and stretch. A one-step buttonholer is also included for perfect buttonholes every time.
Brother includes six easy-to-change feet: narrow hemmer, zipper, zigzag, buttonhole, button sewing, and blind stitch.
The great thing about the XM2701 is that it's so easy to use, and when you're a beginner, ease of use is the most important thing. The automatic threader makes needle threading a breeze. The drop-in bobbin is jam-resistant, so it stays in place and ensures quality stitches every time.
Selecting your stitch is easy, too, thanks to the convenient dial on the front of the machine. All of the stitches are listed just above the dial, which makes stitch selection even easier. The floral design on the front panel adds some flair and personality to the machine. Teens will love it.
Did we mention that the price is unbelievable? It is one of the best inexpensive sewing machines you can buy. You can get your hands on this one for just under $100.
With a variety of stitches, user-friendly design and affordable price, the XM2701 is a machine that any beginner would be proud to own.
3. Janome 2212 Sewing Machine
Janome is a well-known name in the industry, and their 2212 model is a great choice for beginners. This may be a simple machine, but it's built to last and offers the quality that a serious seamstress is looking for.
Unlike the first two machines on our list, the 2212 does not offer a plethora of stitch options. In fact, this model only comes with 12 built-in stitches. Before you write this one off, keep in mind that you'll only ever use four or five stitches on your machine for most projects. What you are paying for is quality. Janome machines tend to last longer and produce better results than other machines in its class.
A convenient dial on the front allows you to quickly select your stitches. Two other built-in dials allow you to adjust the length and width of the stitch to suit your project. A four-step buttonholer is also included.
The 2212 uses a drop feed for quilting and free motion sewing. The 5-piece feed dog ensures high quality stitches on a multitude of different fabrics. A convenient reverse lever also allows you to easily lock stitches.
Priced just under $150, this may not be a choice that some users would want to start with, but if you have a little experience and want to invest in a better machine that will last, the 2212 is an excellent choice. It's simple, reliable and so easy to use. This would be my #1 recommendation for those who don't mind spending a bit more money on their machine.
4. Singer Stylist 7258 Computerized Sewing Machine
The Stylist 7258 is a computerized sewing machine that won't overwhelm beginners. It's easy to use, but it also comes with a robust set of features that you'll appreciate as you advance in your sewing skills.
In total, there are 100 built-in stitches, which include decorative, basic and stretch.
9 essential stitches
8 stretch stitches
76 decorative stitches
7 buttonhole options (6 fully automatic, 1-step options; 1 endless buttonhole)
This may seem like an overwhelming number of options, but it isn't. All of the stitches are displayed on the front of the machine in a convenient diagram, and the corresponding selection number is listed below.
The LCD screen displays your stitch selection, so there's no confusion about which stitch you're using. The screen also displays other settings – such as stitch length and width – to ensure that you have all the information you need at a glance.
If you're interested in quilting and applique, there's a programmable needle up/down function that allows you to find just the right position for your project. Speed adjustment also gives you more control over the sewing process.
The built-in needle threader makes your life easier, saves time and eliminates eye strain. There's also a self-adjusting tension system that takes the guesswork out of tension settings.
There's a removable storage compartment which gives you access to the free arm. Singer also includes several accessories and presser feet.
The heavy-duty metal frame offers durability and helps prevent skipped stitches. Three bright LED lights illuminate your work space to ensure that you have a clear view of your work at all times.
Overall, the Singer Stylist 7258 is a great option for beginners. It offers just the right number of features to make sewing easier and more pleasurable without feeling overwhelming.
5. Singer Heavy Duty 4423 Sewing Machine
The Singer Heavy Duty 4423 is still one of the most popular and best-selling machines from Singer. Just like its name suggests, this sewing machine is designed for heavy-duty use. But it still has a beginner-friendly look and feel.
There are several iterations of Singer's heavy duty sewing machine series, but the 4423 is one of the most basic options. But don't let that fool you. You're not missing much with the other models. The only difference is that other models have more stitches.
The 4423 has a modest number of stitches – 23 in total. Among them, 12 are decorative. Basic, stretch and buttonhole stitches are also included, and stitches can be selected using the dial on the front of the machine. These stitches will allow you to tackle virtually any project, from home décor to garments.
The threading path is printed right on the machine for easy threading without the eye strain. The 60% stronger motor allows for greater piercing power which produces thicker seams.
It's easy to insert and remove the drop-in bobbin, and the clear cover allows you to monitor the bobbin thread as you sew.
A heavy-duty metal frame, stainless steel bedframe and high sewing speed of 1,110 stitches per minute allows this machine to sew through even the thickest of fabrics.
The 4423 comes with a variety of accessories, including:
Zipper foot
All-purpose foot
Button sewing foot
Buttonhole feet
Quilting guide
Seam ripper
Auxiliary spool pin
Bobbins
Needles
Spool pin felt
Soft case
The 4423 is a machine that you can start using as a beginner and continue using until you're a sewing expert. It's a durable machine that will give you years of use if you take care of it. Unless you require specialized functionality, the 4423 should have everything you need to sew just about anything at any experience level.
6. Janome HD1000 Heavy Duty Sewing Machine
Janome is one of the most respected brands in the industry, and the Janome HD1000 is a great, durable option for beginners. The body is made of cast aluminum just like the machines your grandmother used.
This heavy-duty sewing machine offers 14 built-in stitches, including stretch, utility and buttonhole. It also has beginner-friendly features that you'll appreciate, such as:
Automatic needle threader
Free arm for sewing pants, collars and cuffs
Drop feed for darning and button sewing
Easy-load bobbin
Automatic bobbin winding
Extra-high presser foot lifter
The drop feed function also allows for free motion sewing, which is great for quilting. You can also use this feature when stitching buttonholes or darning.
A removable storage compartment gives you access to the machine's free arm and is a convenient way to store all of your accessories.
Simplicity is what makes this machine such a great option for beginners. In total, the HD1000 has 14 stitches, including a 4-step buttonhole. All of the stitches are conveniently displayed on the front of the machine. Stitch selection and other adjustments can be made by simply turning the dials on the machine.
It's a heavy machine, but it's built well and highly durable. Janome trades in the fancy bells and whistles for a solid design that will give you decades of use with proper care.
Because it's so durable and well-made, you can sew with just about any type of fabric, including leather and denim. It's also great for quilting, so it's a versatile machine that can be used for so many different types of projects.
Janome includes a variety of accessories with this machine, including: zipper foot, buttonhole foot, hemmer foot, bobbins, felt, two screwdrivers, extra needles, seam ripper, hem guide and a soft cover.
7. Brother SE400 Computerized Sewing and Embroidery Machine
If you have plans to do embroidery in the future, the Brother SE400 may be a good fit for you. This computerized sewing machine is easy to use, and it offers a wealth of features for both beginners and more advanced users.
With the SE400, you can sew, quilt and embroider using just one machine.
This Brother sewing machine has 67 built-in stitches, 70 built-in embroidery designs, 120 frame pattern options and 5 embroidery letter fonts. You can even import designs by connecting this machine to your computer. The machine has a built-in 4" x 4" embroidery area, which is the standard size.
All of the stitches are displayed on the front of the machine, and the LCD touchscreen makes it easy to choose your stitches.
It's a highly versatile machine that offers helpful features beginners will appreciate, such as:
Automatic needle threading
Backlit touchscreen LCD to reduce eye strain
Quick-set drop-in top bobbin
Simple bobbin winding system
Push-button thread cutter
You can also adjust the stitch length and width as well as the tension level. There's also a one-touch start, stop and reverse option, and you can operate this machine with or without the foot pedal.
Free arm and flatbed convertible sewing allows you to work on virtually any project with ease.
The SE400 has a lot of great features that make sewing a breeze. The 7-point feed dog system allows for smooth fabric feeding, so you can work with virtually any type of fabric. Automatic needle threading saves time and eye strain, and the easy bobbin system allows you to get started faster.
With the quick-set, drop-in bobbin system, you won't be fishing for bobbin thread. Plus, the clear cover allows you to monitor your bobbin thread at a glance.
Brother includes several presser feet, a soft cover, embroidery arm and embroidery hoop with this machine.
8. Janome New Home Sewing Machine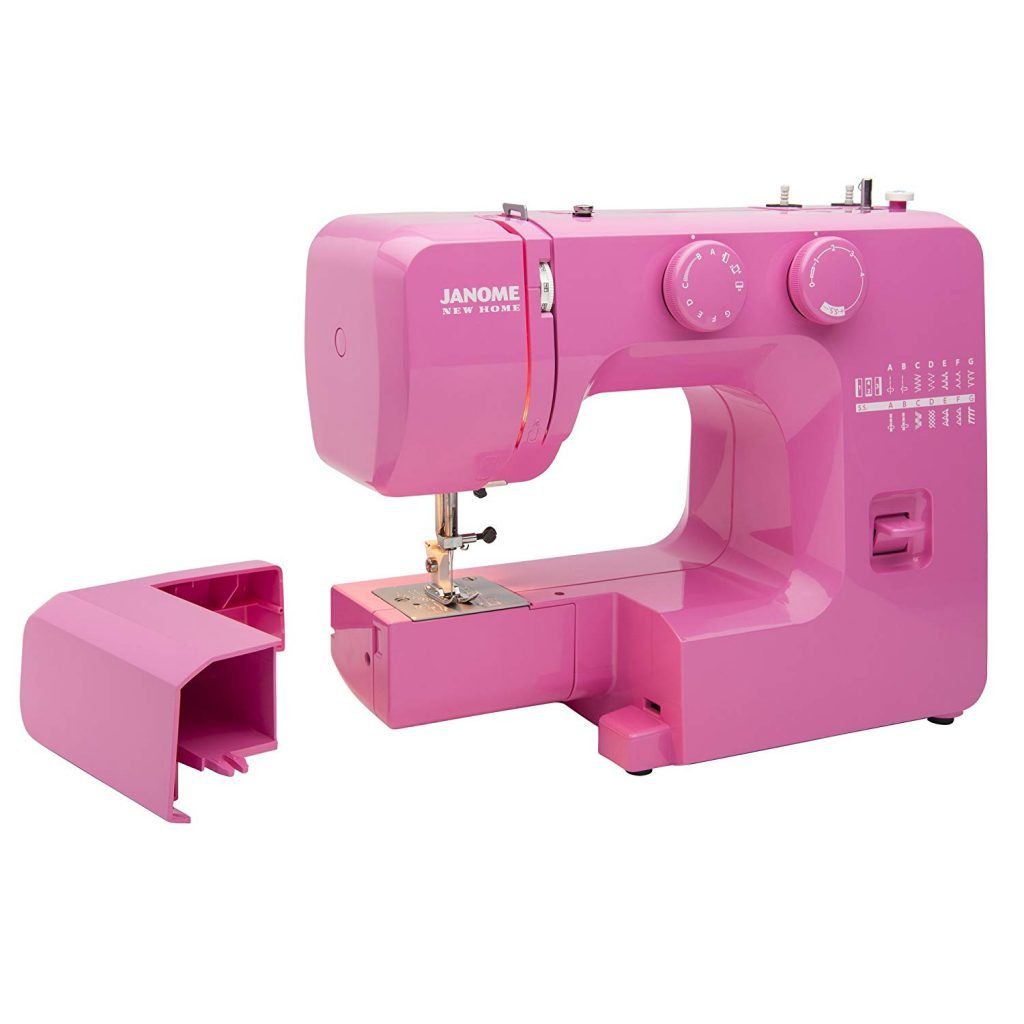 The Janome New Home Pink Sorbet is a lightweight, full-size sewing machine with a fun design and more options than most seamstresses will ever need. If you're just getting started with sewing and you want a machine that can grow with you, this model is a great choice.
The nice thing about this machine is that it doesn't have an overwhelming number of stitches. There are 15 built-in stitches total, which includes a four-step automatic buttonhole.
Selecting stitches is easy thanks to the stitch selection dial. With a twist of the wrist, you can find and select the perfect stitch for your project.
And if you like to sew clothing, you'll appreciate the free arm, which makes sewing sleeves and cuffs a breeze. There's also a built-in LED light that allows you to see your work area clearly.
The automatic bobbin winding system and drop-in top bobbin make it easy to get your projects started, and the bobbin system is jam-resistant for frustration-free sewing.
It offers a maximum sewing speed of 800 stitches per minute, and comes with an array of accessory feet. Including: zigzag, zipper, button and buttonhole.
Janome throws in a bunch of accessories, too, like a needle set, darning plate and bobbin.
My only complaint with this machine is that threading is a manual process. But at such an affordable price, you really can't complain too much about the lack of this feature. I also believe that it's a good thing for beginners to learn how to thread a machine properly.
The Pink Sorbet offers just the right number of stitches and accessories to make this a great machine for beginners. But it also has the stamina and versatility to grow with you as your skill progresses.
If you're looking for a light, portable machine that doesn't compromise on quality, I highly recommend the Janome Pink Sorbet.
9. Brother XL-3750 Quilting and Sewing Machine
The Brother XR3774 offers a simple design, but has more than enough features to tackle just about any task a beginner sewer would take on. If you are wanting to make quilts, this machine would be a great choice.
Just like the others on this list, this machine is lightweight and easily portable, so you can take it with you on the go.
There are 37 stitches total and an impressive 74 stitch functions. There are more stitches than you'll ever need with this machine.
Unlike the previous Brother model, this machine actually has an automatic threader as well as the drop-in bobbin system. It also includes automatic bobbin winding and a single-step buttonholer. And with the touch of a button, you can adjust the length and width of the stitch.
The Brother XR3774 comes with a slew of accessories that any user – especially quilters – will appreciate. These accessories include:
8 presser feet
Quilting table
800 stitches per minute
Sewing notions
Cloth carrying case
And to help you see your work clearly, this machine has a built-in light bulb.
The Brother XR3774 is a great little machine for beginners. It's lightweight, easy to use, easily portable and comes with more than enough functions to make sewing any project a breeze.
Perhaps my only complaint with this machine is that you can't use it with heavy-duty fabrics. But that's to be expected with lightweight machines. The only other minor quirk is the light bulb – it's not an LED. It's easy to replace the built-in light bulb with an LED, so that's just a minor inconvenience.
With an automatic threader, an abundance of stitch functions and a durable design, the Brother XR3774 is a great option for beginners and even more advanced users.
10. Singer Start 1304 Sewing Machine
The Singer Start 1304 is a popular choice for people just starting out. It comes equipped with 6 built-in stitches and multiple stitch functions. That's more than enough stitches to complete any project and few enough that it won't be overwhelming a beginner with too choices. Most people throughout their careers really only use a handful of stitches anyways.
There is also a free arm that will allow you to hem sleeves, pants or other small projects.
For beginners, this model is a perfect place to start. It has all of the features that will make it easy to get started. It's easy to use so you won't spend an entire weekend learning how to use your machine. A few of the many convenient features that come with this mode include:
Easy stitch selector
Quick needle threading
Free arm
Heavy duty metal frame
4 step buttonholer
Here's a list of accessories that are included with your machine:
3 presser feet: buttonhole, zipper, all-purpose
Bobbins
Needle pack
Twin needle
Screwdriver
Spool pin
Seem ripper
All of these accessories can be stored neatly in the free arm. You won't have to purchase any additional items to get started.
Affordably priced, easy to use and built to last, the Singer Start is one of the best beginner sewing machines you can buy.
Guide: Best Beginner Sewing Machine Basics
A beginner sewing machine can be used by teens, or it can be used by adults. You can go out and buy a computerized sewing machine, but this will not be the best sewing machine for beginners – it's riddled with features you'll never use.
1. What are the Benefits of Learning to Use a Sewing Machine?
Sewing is a skill that was passed down for generations, but it's a skill that is now being ignored thanks to mass manufacturing and automation. But sewing still has a place in the world, and learning to use a sewing machine means that you can create:
Clothing
Blankets
Crafts
Pillow cases
Curtains
Household décor
If you have a beautiful item that loses a zipper, you can grab a thick needle and replace it. You can use the best beginner sewing machine to repair clothing that has holes or alter clothing that has gone out of style.
Kids and adults are often stuck in front of the television or on their phones.
When you start sewing, you're also picking up a hobby that is fun, useful and serves a purpose. You can make clothes for yourself or loved ones. And you can even give out these clothes during the holidays as presents.
If you put more time into your craft, you may even get into embroidery work or quilting.
Sewing machines are versatile, and you'll learn a skill that will be helpful for the rest of your life.
2. What are the Basics of a Sewing Machine?
The best sewing machine for beginners will do much of the same as a high-end sewing machine. Basic functionality that all sewing machines offer include:
Threading a needle
Threading a bobbin
Using a foot pedal to push the needle through the fabric
Sewing machines are mechanical and will take all of the "manual" hand work out of sewing. When you have a beginner sewing machine, it will come with:
Key features that you need to get started sewing
Easy customization and setup options
Lack of advanced features and setting confusing to the beginner
You'll be able to change out your presser feet, your unit will likely have a light and small storage space, and it will come with a few key stitches that are used in 99% of projects. Beginner machines are simply not "bloated" like other sewing machines that come with stitches and features you'll never use.
3. What are Common Problems with a Sewing Machine?
A lot of the problems with sewing machines are due to human error. The best sewing machine for beginners will not be able to overcome these core problems. Key problems that you're likely to experience with your sewing machine are:
Thread tension. A lot of users will have difficulty with thread tension. You may have the tension set too loosely, and if this occurs, you may end up with a stitch that is too loose for your project. You may also cause your thread and fabric to bunch up. Tension that's too high can cause your thread to break, and when the thread breaks, you'll need to start the stitch again. Your thread can also break and enter the machine which is hard to find.
Threading. There have been a lot of automatic threading sewing machines on the market, and a lot of them fail. The reason that these features exist is because people hate threading their machines and needles. When trying to get the thread through the eye of the needle, it is one of the most frustrating pain points for beginners.
Bobbin tension. The tension of the bobbin may be inconsistent requiring you to start a project over or restart a stitch.
But these are just the very core problems that a beginner will face. You may also have a machine that:
Skips stitches
Refuses to feed fabric properly
Bends or breaks needles
Once you start finding the problems that you're dealing with, you can look them up online and find ways to remedy the problem. A lot of these issues are common to intermediate and advanced seamstresses that have come across the same issues year after year.
4. What Do You Look for in a Beginner Sewing Machine?
When I'm looking for the best sewing machine for beginners, there are a lot of little details that I'll be looking for and trying to find in the product description. I recommend trying to find as many automatic features as possible.
If the sewing machine has an automatic thread cutter or needle threading feature, good – it's a lot easier.
One-touch options are the ideal choice, but you will also want your machine to have a few key features:
A dozen or so stitch options
One-step buttonholes
An array of basic accessories to get started
Storage for bobbins and presser feet
Speed controls are very nice in a beginner sewing machine, but due to the lower price, you'll often find that the speed is completely controlled via the pedal. There may be an option to set the speed on the machine through a dial or slider, and when you reach this point, you're either in the mid-price range or looking at a sewing machine that is bordering automatic territory.
Moderate tension and stitch width and length controls should be offered.
You'll want to read reviews on the sewing machine to find the best option available. Warranties should be offered, and this is very important for the first-time seamstress.
If you find a machine that offers embroidery or quilting, you're likely moving into a higher price bracket. The key to finding the best beginner sewing machine is to keep everything as simple as possible.
The simpler the design, the fewer mistakes you'll make and the less confusing the sewing machine will be. High-end sewing machines are nice and feature-rich, but if you're not going to be using these features, they'll complicate the sewing process.
For kids or teens who are starting to sew, a simple machine allows them to jump into the sewing process without being overwhelmed in the process.
5. How Much Should I Spend on the Best Beginner Sewing Machine?
Amazon has a lot of affordable sewing machines for beginners, and this is what you want: affordability and durability. If a machine is affordable and durable, it's the right choice for a beginner who will be a little rougher on their machine at the start.
In terms of price, you'll find that a lot of the sewing machines will be priced at $200 or less.
But you can find high-end models that are $500+. These high-end beginner models are often overkill and will have features you won't use. If you're willing to invest in a more expensive sewing machine, you'll want one with a heavy-duty frame so that it will last for years.
I would recommend for the first-time sewer, spending no more than $200 on their first sewing machine.
The truth is that with a little time and patience, even the most basic sewing machine will be able to handle most sewing projects. For those few projects that the person cannot complete, they're likely meant for the more advanced seamstress or require thick fabrics which the motor of the sewing machine cannot penetrate properly.
FAQs
What are Feed Dogs?
All sewing machines have "feed dogs." These are the rows of spiked metal strips located on the stitch plate and underneath the presser foot. Their unique design makes them hard to miss.
Feed dogs play a very important role in sewing. They march back and forth at timed increments – pulling your fabric as you sew – to create just the right amount of distance between each stitch.
Feed dogs have a feed point system that refers to the amount of contact the feed dogs have with the fabric. The higher the number, the greater the contact – and the more control and precision you have when sewing.
Nearly all sewing is done with the feed dogs up, but there are a few tasks in which the feed dogs may be lowered: freehand quilting and darning. Lowering the machine's feed dogs eliminates its grip on the underside of the fabric. Eliminating this functionality is great for freehand work, but it can be problematic for straight-line stitching.
Most modern sewing machines have a switch that will raise or lower the feed dogs.
Some presser feet actually have their own feed dogs. The walking foot is one example. These types of presser feet can be helpful when sewing multiple layers of fabric. The feed dogs on the presser foot move along with the bottom feed dog system to grip the fabric on the bottom and top layers. You can use a walking foot with virtually any sewing project, but it's especially useful when quilting.
What is a Sewing Machine Needle?
A sewing machine needle is a specialized needle used with sewing machines. The needle is what creates the stitches on your projects.
Most sewing machine needles are made of various grades of chrome-plated steel, but you can find specialty ones coated with titanium.
These needles come in a variety of sizes:
American: 8-21
European: 60-130
European needle sizes increase in 5- or 10-point increments.
Just as there are various sizes, you'll also find different types of sewing machine needles, including: universal, embroidery, leather, denim, ballpoint, quilting, metallic, stretch, twin, topstitching, serger and wing.
Different brands have different color codes for their needles.
Because needles can become dull over time, they should be changed regularly to prevent skipped or poor stitches.
What Does a Presser Foot Do?
A presser foot is an important sewing machine attachment. It works with the feed dog system to hold fabric flat as you move it through the machine.
Without a presser foot, the fabric would rise and fall with the needle, which would cause it to pucker. The presser foot also allows for one-handed operation, making sewing a breeze.
Typically, presser feet are spring-hinged which allows for some flexibility in its function.
There are many different types of presser feet, such as:
Buttonhole: Has two grooves under the sole of the foot, which allows fabric to move freely as the thread builds up to form the buttonhole edges.
Blind-hem: This type of presser foot has a bar running along the center and in front of the needle. The bar is used as a guide when lines of stitching are required for hemming, to close a ridge, or when joining two pieces of lace.
All-purpose: The standard presser foot with a flat sole which provides control over the fabric as it moves through the feed dogs.
Embroidery: A special foot which is completely open in front of the needle. This maximizes visibility. The wedge-shaped indentation under the foot allow satin stitching to glide through without getting jammed.
Darning: A spring-loaded foot that hops of the surface when you move the fabric forward, backward, right or left.
What is a Foot Pedal?
The foot pedal is what controls the start and stop function of the sewing machine. Pressing down on the pedal with your foot causes the machine to start stitching. Lifting your foot off of the pedal stops the stitching action.
Some pedals have built-in pressure sensors that can increase or decrease the sewing speed based on how hard or lightly you press on the pedal.
What is a Buttonholer?
A buttonholer is a sewing machine attachment that automates the motions involved in sewing a buttonhole.
Modern sewing machines have this functionality built-in, but older machines do not. These attachments work with any sewing machine that's capable of creating a lock stitch.
A buttonholer attaches to the presser bar of the machine to replace the presser foot. It works by moving the material rather than the needle itself.
What's the Difference Between a Long and Short Stitch?
There is no difference between a long and short stitch because this is the name of a particular type of stitch.
In hand embroidery, a long-and-short stitch is used for adding fine detail, such as shading. The combination of longer and shorter stitches helps create a smooth gradation between colors.
Can I Learn to Sew on My Own?
Yes. It's certainly possible to learn to sew on your own using books and video tutorials. The owner's manual that comes with your machine can teach you how to get your machine up and running. Books and videos can demonstrate and explain sewing concepts and techniques for your projects.
It will take practice and discipline, but you can absolutely learn how to sew on your own. And if you need some hands-on help, you can always take a class at a local craft store. Sewing classes are affordable or free in some cases.
Final Thoughts
Each of the machines shown above are great for beginners. They're simple, easy to use and come at a price that anyone can afford. If you're just getting started, you can't go wrong with any one of these models.
I hope this article has helped you with you decision. Good luck in your journey!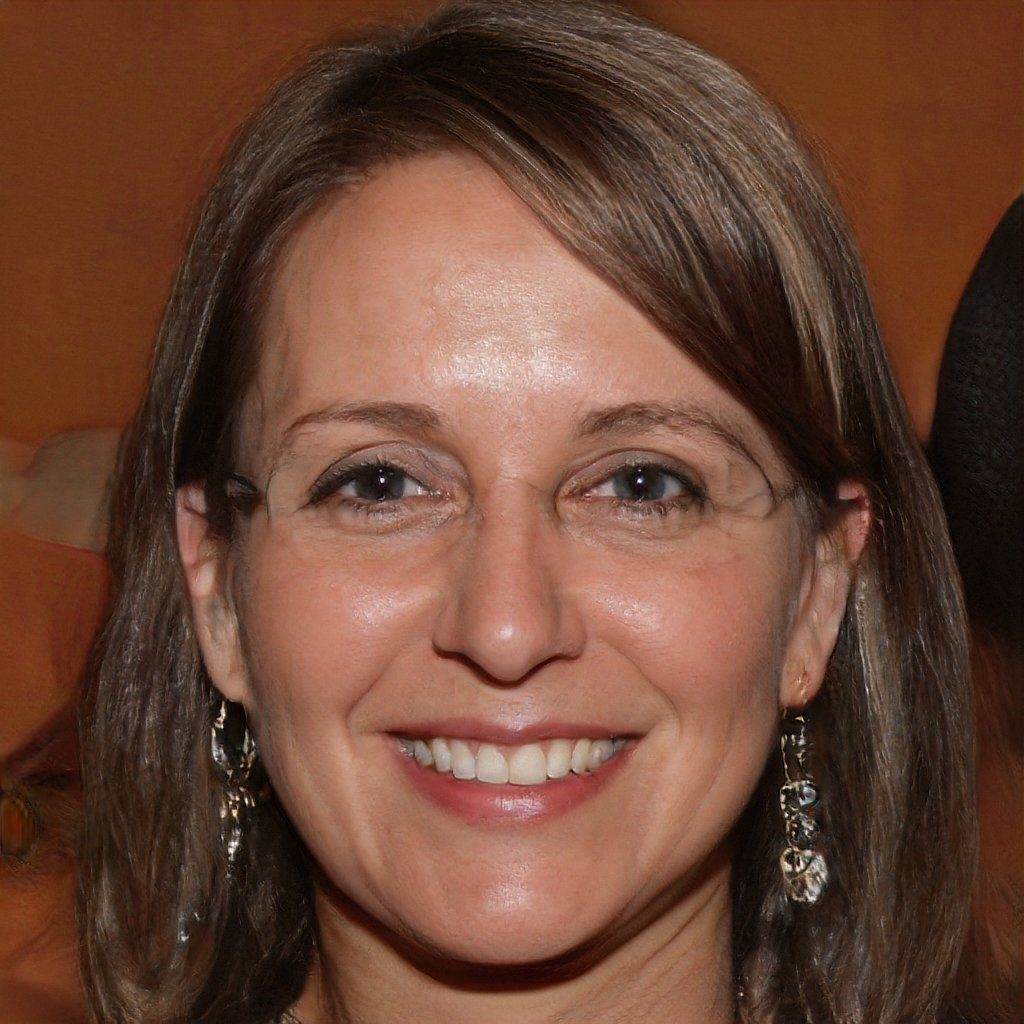 Hello and welcome to my site! My name is Shannon and I have been and avid quilter for over 20 years. My love of quilts came at an early age from my grandmother. I am a mother of 2 and lives in the US with her loving husband.